An in-depth guide to making the most of the rapidly growing technology scene of the Yucatan peninsula in southeastern Mexico.
Table of Contents:
In the last decade, Mexico's technology industry has flourished, growing three times faster than the world average. Most of that growth is driven by demand from the United States.
Mexico has carefully cultivated its technological ecosystems in each region of the country.
Let's look at a brief context of each region:
Technological Ecosystem of Mexico by region
NortheastRegion
Monterrey, a city that has brought together a group of companies and academic institutions, entrepreneurs, and digital talents that are committed to revolutionizing the world through technology and digital business models.
One of its competitive advantages is the ease of transferring and sharing knowledge and best practices across the border with the United States.
Northwest Region
Tijuana, a city that has found its new identity in technology, using its favorable location, industrial power, and its young and bilingual population to position itself as a cross-border technology center.
But Tijuana has something else that the rest of the country does not have; it is the closest city to Silicon Valley.
This allows you to offer professionals familiar with US standards at Mexican prices and in the same California time zone.
Western Region
Guadalajara, the capital of tequila, has already gained recognition as the leading technological ecosystem in Mexico.
Many international newspapers have named Guadalajara as the Mexican Silicon Valley.
Massive financial injections into the technology sector have produced significant benefits for this region.
This city has a strong talent pool of young programmers and engineers. Currently, Oracle, Intel, HP, and IBM have significant R&D and programming facilities in Guadalajara.
Amazon also recently established its facility R&D there.
Central Region
Mexico City, one of the largest cities in the world. It houses 14% of the national population (more than 21 million inhabitants).
It is the epicenter of everything that happens in politics, economy, culture, education, and of course, in the technological sector of the country, and that is its main attraction.
Its ecosystem has allowed countless tech startups to hit the market. Only Fintech has an annualized growth of 40%.
Tech companies hoping to succeed in Mexico City also benefit from a wealth of tech talent.
With university enrollment that has tripled in recent decades, and an extremely young population, Mexico City produces approximately 130,000 new engineers each year, that's more than Canada, Brazil, or even Germany.
Southeast Region
Yucatan. – Although the state's economy is 64% dependent on the tertiary sector (tourism and commerce), the technology industry is potentially growing in Mérida, Yucatán.
Continuity in policies to support new businesses, the presence of investment funds, the development of human talent, and a robust network of incubators and accelerators have positioned the Yucatan peninsula on the map of the national technological ecosystem and among the top 13 of the world, placing Merida, the capital of the State of Yucatan, in the sights of investors looking for business opportunities.
These five regions of Mexico are the main technological muscles of the country. Added to their efforts, we could say that it is not a single city that is transforming into the next Silicon Valley but a whole nation.
Ready to hire top tech talent?
Average software engineer salary in Yucatán vs the US
Affordability is what's driving the decision for most companies when they think about landing in Yucatán. That's because the average software engineer salary in Yucatán can be over 65% less than the US national average. This is not due to a lack of skill or the perception of lower quality work.
Among the main technological regions across the globe, Yucatan has one of the lowest costs of living. That coupled with an incomparable quality of life makes the region a very compelling option for international and US companies in Yucatán.
Average Salary for:
Full Stack Developer: $3,156/mo ($8,250/mo in U.S)

UX/UI Designer: $2,669/mo ($7,106/mo in U.S)
These are net average figures that don't include benefits, bonuses, taxes or any other compensations. Download our Tech Salaries Report 2021 that compiles data from over 15,000 developers in Mexico for more insights. 
A closer look at the technological ecosystem of Yucatan
The peninsula is home to impressive pyramids and buildings belonging to the only group in pre-Columbian America that established a complete system of writing and complex mathematical concepts, in addition to the system for understanding astronomy more advanced of its times. The Mayas.
Today, Merida, the capital of the Yucatan state, is a fusion of culture, tradition, and modernity. Its impressive archaeological sites, colonial buildings, and modern buildings of technology companies coexist in one place.
Investments of national and multinational companies are attracted by its business environment, its financial benefits, its dazzling technological scene, its geographical accessibility, and, of course, its people.
In fact, the Yucatan Peninsula can compete face to face with one of the lead runners in Mexico's technological scene, Queretaro.
Also, Yucatan's specialized talent pool has grown bigger than Queretaro's in less the amount of time.
Yucatán's ecosystem thrives due to the availability of talented resources. Of the 1,600+ IT students graduating in the southeast region of Mexico, 50% come through the Autonomous University of Yucatán. 
It's ranked among the Top 100 universities in Latin America. The state is also host to the Polytechnic University of Yucatán (UPY). It's the first university that specializes in disruptive technologies that are in high demand. It also has a strategic alliance with Texas A&M University.
What's more, when it comes to US companies looking to expand to Yucatan, the Government of Yucatan in collaboration with the U.S. International Development Finance Corporation (DFC) has a fund that supports companies with a financing pool of up to $350 million dollars, as well as political risk insurance coverage for up to the same amount. 
Yucatan is serious about solidifying itself as a tech ecosystem, and companies are noticing. 
As Yucatán is a major tourist destination, the workforce already possesses a high level of competency in English and familiarization with the North American culture, making them well-equipped to work with international teams. It ranks fourth nationally in English language according to the EF English proficiency index. 
The Yucatán IT industry also has a bigger specialized talent pool than Queretaro which is one of the frontrunners of Mexico's technological landscape with some of the highest wages on the national spectrum. 
As mentioned, the government has made a conscious effort to make Yucatan an attractive destination for national and international tech companies. It created financial and support programs that include reduction in taxes, training programs, recruitment support, guidance on permits, funding advisory, and local liaison support. 
Business environment
Geographic accessibility
Yucatan borders the Gulf of Mexico to the north and west; it borders Campeche to the southwest, and Quintana Roo to the east and southwest. Mérida, the state capital, is the center of the most developed business, financial, technological, medical, and educational services in the southeast.
With a strategic location in the north of the Yucatan peninsula, Mérida is connected by land, air, and water. It has two international airports, thirteen major seaports (one for international operations), and a national road network.
By air, Merida has two non-stop routes to Miami and Houston in the United States; the latter is a city from where a traveler can connect to virtually any part of the map. It also has a non-stop route to Toronto in Canada. And one more non-stop way to Cuba.
Soft-landing and government support
The United States government has committed to invest more than $ 500 million dollars in southern Mexico to create jobs and stimulate development.
In collaboration with the U.S. International Development Finance Corporation (DFC) and the Government of Yucatan, México and the U.S. negotiated a special financial fund for companies established in the state.
Now, US companies can access to:
Debt financing with direct loans and guarantees of up to $ 350 million for terms of up to 20 years.

A political risk insurance coverage of up to $ 350 million for protection against risks, including currency inconvertibility, government interference, and political violence, including terrorism.

Investment funds for debt financing with private equity funds from emerging markets selected through an open and competitive process.
On the other hand, the Ministry of State Economic Development offers various incentives and help or assistance aimed at investors interested in the state, including the following:
Support and assistance for investors who visit with a business agenda.

Liaise with local companies to buy supplies.

Management facilities for searching and obtaining industrial land and buildings.

Guidance and management for obtaining federal, state, and municipal permits.

Funding advisory services and government support programs for industrial development.

Promotion and organization to attend national and international events.

Other support, according to the investment project.
Technological Ecosystem
This destination in Mexico has six high-impact incubators, four accelerators, four technology transfer offices, and at the Polytechnic University of Yucatan, there are three careers focused on meeting the needs of the technological future: big data, data analysis, and robotics.
And it also has the regional office of the Mexican Institute of Industrial Property, making it easier to facilitate the international protection of trademarks and industrial designs to new companies or their products.
Financial
Appeal Competitive Cost of Living
Like all of Mexico, Merida offers a reduced cost of living compared to the United States and European countries.
Besides, among the main technological cities, Mérida has one of the lowest costs of living.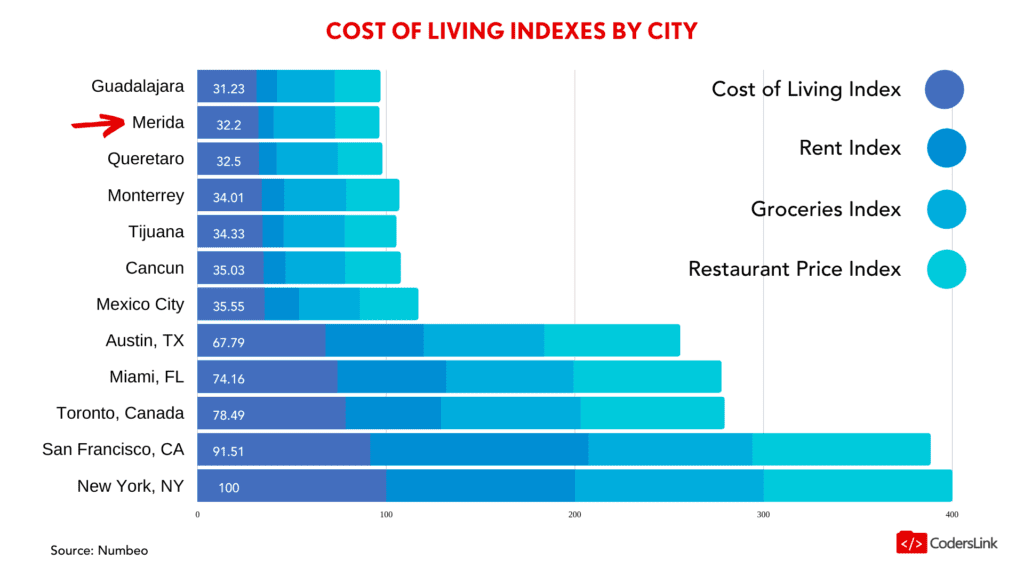 This also allows businesses to access the lowest labor costs of any region, an economic attraction for the American companies that seek to reduce their expenses in labor without sacrificing the satisfaction and quality of life of their employees.
Sources: United Nations City Prosperity Index Mexico 2018 and Expatisan on February 11th, 2020.
State and federal political will
Since 2004, the state government has sought to encourage technological development in Yucatan, driven by a digital strategy designed in conjunction with its leading universities and centers research.
At the federal level, the administration of President Andrés Manuel López Obrador has chosen the southeast as the main priority of his government.
The main work of the López Obrador government is the Maya Train, a project that contemplates the construction of 1,475 kilometers of a railroad, and at least 16 stations along Campeche, Chiapas, Quintana Roo, Tabasco and Yucatan.
Its objective is to reduce the costs of passenger and cargo transportation in the region, create new poles of development and promote the establishment of industries that take advantage of the latest connectivity advantages of the area.
In addition, the state has the regional representation of the American Consulate for the states of Quintana Roo and Campeche. This consulate has an American Citizen Services Unit (ACS), immigrant visa process and non-immigrant visas for Mexican citizens, and other services.
Government-sponsored financial programs
State financial programs have been designed to compete for investors nationwide. Technology companies that expand their operations to Yucatan will enjoy benefits such as:
Exemption and reduction of state and municipal taxes.

Training programs.

Recruitment and selection service (with the support of different secretariats in the state, we organize a selection and recruitment event with the help of the universities).

Bureaucratic reduction to streamline formalities and paperwork.

Priority in Site Inspection.

Among others, depending on each project.
Technology scene powered by your experienced and happy talent
Education
Currently, the State of Yucatan offers 11 associate degrees, 221 bachelor's programs, 18 bachelor's programs in education, and 100 postgraduate graduate programs in the tech sector.
The Autonomous University of Yucatan is considered the primary educational establishment of the state, and one of the top five public universities in Mexico, in addition to being rated as one of the Top 100 in Latin America. Among national private universities, The Anahuac Mayab is also recognized as one of the leading universities. Mérida is also the home of the Mérida Institute of Technologies.
And of course the Polytechnic University of Yucatan (UPY), the first university specialized in Disruptive Technologies in high demand under a bilingual, international (alliance with Texas A&M University), and sustainable model.
Technology graduates
In one year, the Southeast region graduates more than 1,600 IT professionals, of which 50% are from universities in Yucatan.
At the city level, Mérida has not yet managed to tie the number of graduates in Mexico City, Guadalajara or Monterrey.
However, Mérida has become the ideal destination for professionals from other states in search of a better standard of living, mainly from neighboring states such as Quintana Roo and Campeche.
High density of specialized talent
At the state level, Yucatan has a large specialized talent base comparable to states like Aguascalientes and Guanajuato in central Mexico.
Yucatan also has a large base of more than 4,000 IT professionals in executive and commercial roles.
On the other hand, the more than 5,000 professionals who work as programmers are concentrated in the IT services, computer software, and program development industries.
Levels of English
Being Yucatán, a tourist destination, the workforce there has a high level of English in all its sectors and are very familiarized with North American culture.
According to the EF English proficiency index, the four states of Mexico, with more people capable of talking, writing, and understanding a moderate to a high level of English are:
Mexico City

Nuevo León

Jalisco

Yucatán
Their position is not a surprise since the leading universities of the state require their students an advanced level of English (B2 and C1) to graduate.
High satisfaction rate
Unfortunately, when speaking of Mexico these days, the first thing that occurs to a foreigner is the unsafe conditions, especially in the main cities.
In contrast, Yucatan prides itself on being the safest State in Mexico.
According to the National Survey on Unsafe Conditions (ENS). The rate of unsafe conditions in Yucatan is the lowest than any other city or place in America and even less than many cities in the United States.
On the other hand, the quality of life is also an attraction for the hundreds of professionals from other states who migrate to Yucatan, trying to get away from the stress and noise that characterize the cosmopolitan cities in the central region of the country. They migrate without sacrificing comforts in infrastructure, education, health services, cultural activities, financial services, among others.
Low turnover rate
The state is characterized by having one of the lowest turnover rates of all options.
With a 4% turnover rate, companies can guarantee lower operating costs in their Human Resources department.
Source: ADY based on Catch Consulting 2018 for El Financiero / Bloomberg, INDEX "National Council of the Maquiladora and Manufacturing Industry" and Mexico Industry based on Human Resources Systems Consulting 2017.
Success Cases
Yucatan is quickly becoming a landing site for major International IT companies that see a state with a prepared workforce combined with an incomparable quality of life.
The state now houses "Heuristic," an innovation center located in the Scientific Park of Yucatan, where they develop and apply cutting-edge technologies to essential sectors of the economy.
There are quite a few major tech companies in the region. They include the likes of Geolytics, Makrwatch, Nearshore Technology, 4th Source, BlueOcean Technologies and more landing every month. These companies are working on a variety of products and services covering eCommerce, cybersecurity, software development, technical support and personalized products.
Technology companies established in Yucatan:
BlueOcean Technologies

National Soft

Plenuumsoft

Zenzzer

Finerio

Geolytics

SolexVintel

4th Source

Yellowme

KSquare Solutions

Nearshore Technology

Kwan Tecnología

Nearsoft

Verato

Logismic

Makrwatch

Toh tics

Software House Mérida

Ksquare Labs de México
Products and services developed in Yucatan:
Electronic commerce

Software

development Development of applications

Call centers

Technical support

Cybersecurity

Other personalized products
In a nutshell: 7 reasons to land and expand to Yucatan
It is the safest city and the city with the best quality of life in all of Mexico

Accessibility and connectivity to key markets.

Full access to infrastructure and communications.

An abundance of natural and energy resources.

High quality, competitive human resource with access to a first-class education

Low real estate costs in modern business centers with fully equipped offices.

Ease of doing business and financial support.
You can also download the CodersLink Tech Salaries Report to compare benefits and wages in other regions of the country.