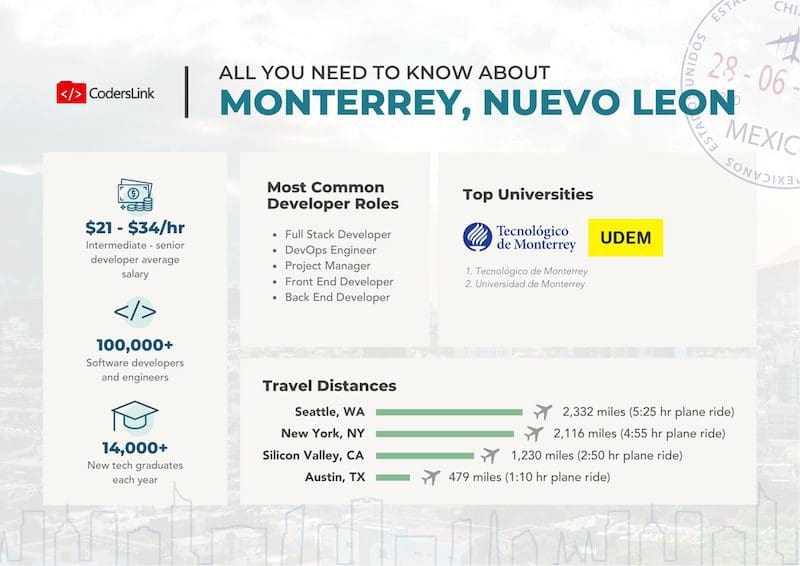 Silicon Valley is home to the world's largest tech companies. Consequently, it's an extremely competitive environment. Companies with infinitely deep pockets are always on the hunt for promising new talent. This has pushed salaries, particularly when coupled with generous benefits, through the roof. 
It's becoming impossible for small and mid-sized companies to find the engineering talent that they need. They simply don't have the resources to offer what behemoths like Google and Facebook can to their developers. In the United States, a mobile developer salary can vary but averages out to $76,387 per year for an incoming IT professional.
Thus companies are now turning to global talent more than ever before. 
Ready to hire top tech talent?
Monterrey, Mexico is fast becoming the preferred choice of Silicon Valley
For software outsourcing, Monterrey's is now one of the preferred choices. Bordering Texas, Monterrey is one of the biggest tech hubs in Mexico. Its close proximity to the United States means that there are a lot of cultural similarities between these two, as well as the transfer of knowledge across borders to further bolster the city's thriving tech landscape. 
Monterrey is located in the northern Mexico state of Nuevo León. It accounts for over 10% of the country's GDP and 11% of its exports. It's always had an industrious and entrepreneurial spirit which made it one of the perfect places to build a thriving startup ecosystem.
It's one of the most modern and fastest-growing cities in Mexico. Monterrey is also where the Tecnologico de Monterrey is based – one of the best universities in Latin America. 
Thousands of skilled professionals graduate through it every year to support the rising demand for developers and software engineers. No wonder that the number of tech companies in the city has surged by a whopping 188% in the last 20 years.
An overview of Monterrey's startup ecosystem and IT industry
Some of the best companies and venture capital firms in Silicon Valley see the potential that exists in Monterrey. Google powers a Startup Grind Community in the city to bring together some of its best entrepreneurs.
The ecosystem is also supported by VC firms like Alta Ventures that has its headquarters in Monterrey and offices in Utah. Naranja, an early-stage investor in digital startups, is also based in the city.  
ImpactHub, an accelerator that focuses on social impact for Latin America and the world at large also calls Monterrey home. The Startup Mexico incubator and accelerator also maintains an office in the city.
Evidently, the movers and shakers of Mexico's tech industry consider Monterrey to be of vital importance. Mexico City's inherent importance and economic stature do make it a prime location for startups but Monterrey has been able to create its own identity in the wider Mexican tech ecosystem. A similar comparison can be drawn between San Francisco and Austin in the US.
The region's most common developer roles
Average software engineer salary in Monterrey vs the US
One of the reasons why Silicon Valley companies are flocking to the city is that the average software engineer salary in Monterrey can be up to 65% less than the US national average. This disparity is not due to the lack of quality. IT professionals in the region are highly skilled and motivated to make their mark on the industry.
On average, an intermediate-level DevOps engineer would earn $3,710 in Mexico per month. A similar resource in the United States would earn $10,154. A full stack developer would get $3,156 in Mexico compared to $8,453 while front and back end developers would also have similar salaries. 
Do note that these figures are net averages and don't include any taxes, benefits, bonuses or other compensations. You can find more details in our Tech Salaries Report 2021 report. It compiles data from 15,000 developers in the country. 
Top companies that have tapped into Monterrey's potential
Many of the biggest tech companies in the industry now have a base in Monterrey. This includes Amazon, Facebook, Microsoft, Google, Apple and SAP. That's in addition to the likes of Lenovo, Honeywell, Uber, Cisco, Dell, and Expedia who have also tapped into Monterrey's tech scene. 
This is how you can expand operations to Monterrey
One of the great things about Monterrey is that its talent is accessible to both established companies and startups alike. The latter normally goes one of two ways when tapping into the city's potential. 
1. Build Operate Transfer (BOT)
The Build Operate Transfer model is perfect for companies that are looking to establish a long-term tech team in a remote location. In this model an IT outsourcing partner, like CodersLink, provides the building blocks for identifying talent, setting up the team structure, helping with legal, fiscal and operational matters, and providing HR and payroll for the company. Only after the team has reached full operational capacity is the team's HR management completely transferred to the hiring company.
The partner forms a deep understanding of the business goals and technical requirements, builds the space and sources the talent, operates all HR functions from payroll to performance management as well as establishes and standardizes policies.
As mentioned, only when the team is ready to blend into the company is all management then transferred. This ensures minimal disruption since the team is already up to speed and in sync with the company's culture and goals. The company can then add new hires on-demand as and when required. 
2. Nearshoring
Nearshoring involves transferring some operations to remote employees. Due to its geographical proximity to the United States, nearshoring is also a suitable option for US companies looking to hire talent in Monterrey. It delivers both time and cost savings if the remote workers are required to visit the parent company's offices frequently.
In many cases, it's actually more feasible to work with a nearshoring partner to bring on board a team of 1-5 remote engineers, instead of having an entire team put together. What model ends up being more suitable for a company depends on a variety of factors, including but not limited to its business requirements and financial position. 
Just how safe is Monterrey, Mexico?
Monterrey has a longstanding reputation of being one of Mexico's most prosperous cities. As such, it has avoided the troubles that other parts of the country have faced to a large extent. As with any big city in the world, there will be some parts to be avoided and general precautions, like being aware of your surroundings, recommended.
However, the media's interpretation of drug cartel violence is overly exaggerated and can sometimes lead to a false perception of the living conditions in the city. Monterrey has invested in a specialized security system that's renowned across the entire Latin American block and set as an example of security practices to follow. 
CodersLink is your gateway to Monterrey
By leveraging our pool of over 12,000 pre-vetted candidates, we've enabled startups and established companies to tap into Monterrey's potential and save over $1 million in labor costs during their first year. Schedule a call with a tech consultant today to find out how this thriving Mexican city can be the key to your future growth.You can also download our Mexico Tech Salaries 2021 report, compiled from survey data from over 15,000 developers, for deeper insight into the ecosystem and the salary trends.