As the cost of tech talent continues to grow in the U.S. and other Western countries, the need for outsourcing and near sourcing has increased as well. But, with so many outsourcing options, choosing how to expand and where is difficult.
For any company asking these questions and ready to augment its capabilities through near sourcing and outsourcing, recent trends show that Latin America is the new frontier for IT outsourcing.
Ready to hire top tech talent?
Latin America vs. Asia vs. Eastern Europe
The three main regions of the world contributing to outsourcing growth are Asia, Eastern Europe, and Latin America, and each region has its own unique benefits and challenges. Within each of these regions, there are smaller sub-regions and cities that offer different opportunities and problems. 
Though the primary focus here is to look at what makes the different Latin America regions unique and beneficial, it's important to understand where Latin America fits within the global market.
Asia
Even with the growth of outsourcing in Latin America and Eastern Europe, Asia still leads the global outsourcing market by volume and price. With India alone having 55% of the market, Asia has a large talent pool at the cheapest rates (average of $18 – $25 per hour for intermediate software developers)
However, Asia poses a number of challenges for companies wanting to expand into the world of outsourcing. The difference in time zones means there is generally a longer turnaround time for resolving problems. It is also more expensive and time consuming to travel to Asia from the US and Canada.
Because of the vast cultural differences between the US and Asian countries, there can be tension and misunderstandings when interfacing with outsourced teams.
Eastern Europe
Eastern Europe, particularly Ukraine and Romania, have invested a lot into developing tech talent and are popular outsourcing spots for Western European countries, particularly those in the IoT, gaming, blockchain, and AI space. 
With a slightly higher salary average ($25 – $35) Eastern Europe is still a good option, especially for countries like France and England who are only one or two time zones away. However, Eastern Europe is still at a 7 hour time difference from the East Coast, making real time collaboration and communication difficult. 
Latin America
With the average salary ranging from $25 – $50, depending on the country, Latin America is still becoming the preferred spot for many US and Canada based companies. With many countries sharing time zones and the relative ease of traveling to many Latin American locations, Latin America's tech talent and near sourcing opportunities are becoming the standard for many US based companies needing to expand.
In recent years, many Latin American countries have invested big in developing tech talent. With an increase in national and local innovation incentive programs and growth in technical universities, Latin America has a growing and capable pool of talent for recruitment. 
Because of Latin American proximity to the US, there is a high level of English proficiency and seamless cultural integration, making developing long term teams easier on US companies. And with so many different regions within Latin America, there are a lot of options for companies to develop niche, specialized teams. 
Latin America's Top 5 Regions
Although there a number of developing outsourcing markets within Latin America, there are five that stand out for average salary cost, training, and long term potential.
Brazil

Argentina

Costa Rica

Columbia

Mexico
Brazil
With over 475,000 software developers and top ranked science and technology schools, Brazil is the leading Latin American country for outsourcing jobs. Although salary ranges are slightly higher, $30 – $50 per hour, Brazil is still a money saving option for US companies. 
Brazil's government has also invested heavily in the IT sector with education and innovation initiatives, while companies like Facebook are cultivating talent through their Hack Station program. With Brazil only one hour ahead of EST, it is an appealing outsourcing destination for US companies.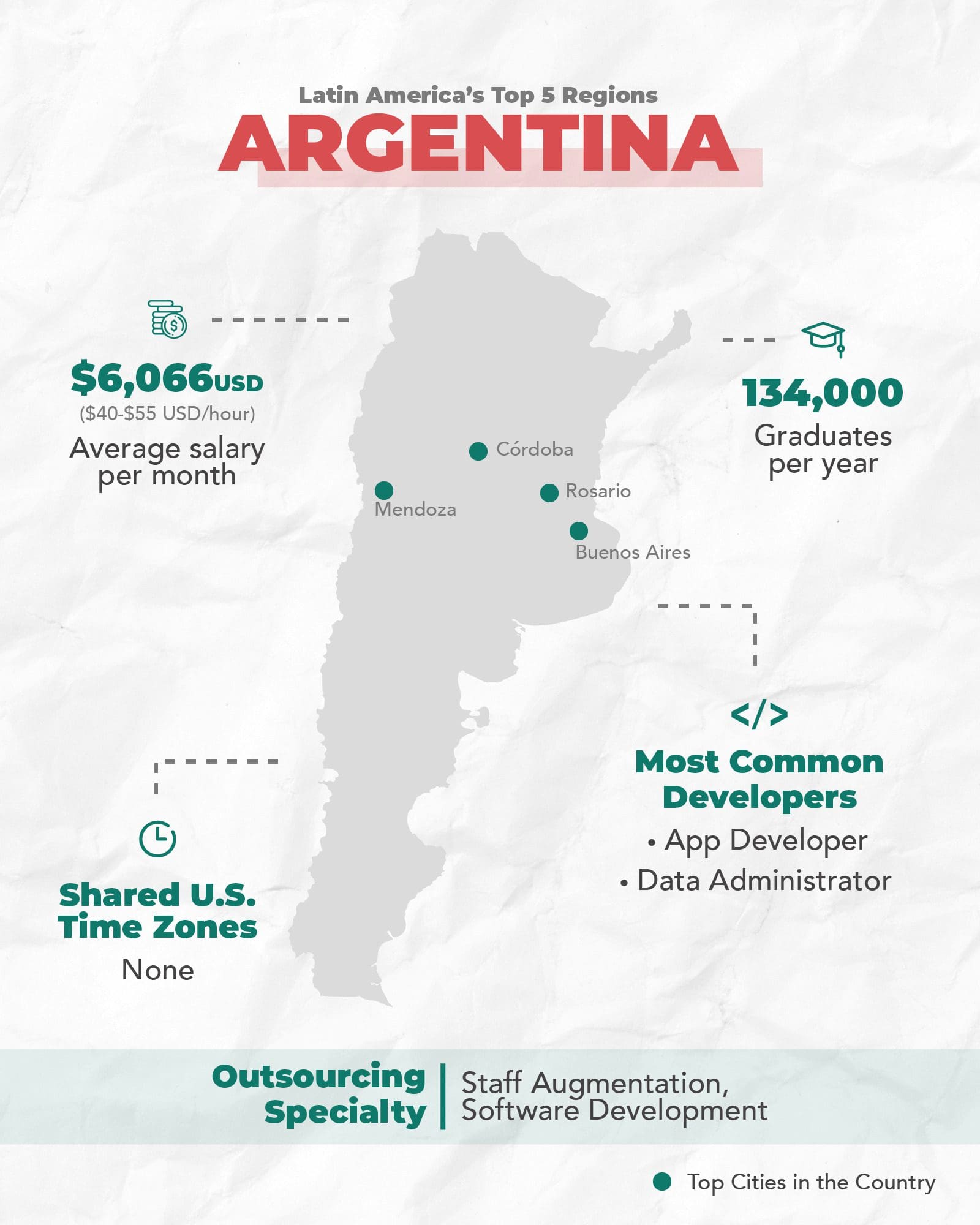 Argentina
Argentina has invested heavily in tech talent development in the last 10 years and made higher education free to its citizens. With Buenos Aires being a cultural hub for South America, it is easy to recruit a growing talent pool. 
Though average salaries are slightly higher than Brazil, Argentina is still very appealing as an outsourcing destination due to its time zone proximity, cultural similarities, high English proficiency, and favorable federal regulations for outside corporations. 
Costa Rica
With only a population of 5 million people, Costa Rica is still able to produce a significant level of highly skilled software developers and engineers thanks to its commitment to universal education and high ranking universities. Costa Rica is in the CST time zone and can be reached within a few hours by plane, making it much cheaper for companies to travel.
Not only does Costa Rica have a stable government and a well educated workforce, it also has a lower average salary than both Brazil and Argentina. 

Amount of graduates per year: 4,000

Most common software developers:

Agile Software Developers

Average salary:

$4,171/month

($25 – $35/hr)

Top companies with an outsourcing presence:

IBM, HP, Intel

Outsourcing specialty:

BPO, Software Development

Top tech cities:

San Jose, Guanacaste

Shared U.S. time zones: CST
Colombia
Colombia boasts the lowest average salaries of the five regions mentioned, making it an appealing outsourcing destination for many U.S. Based Companies. However, that is not the only thing appealing about outsourcing in Colombia.
Colombia shares a time zone with the U.S., EST, and has top ranked tech universities. Recently, the government established the Ministry of Science, Technology, and Innovation so there is a dedicated advocate and agency for developing tech talent.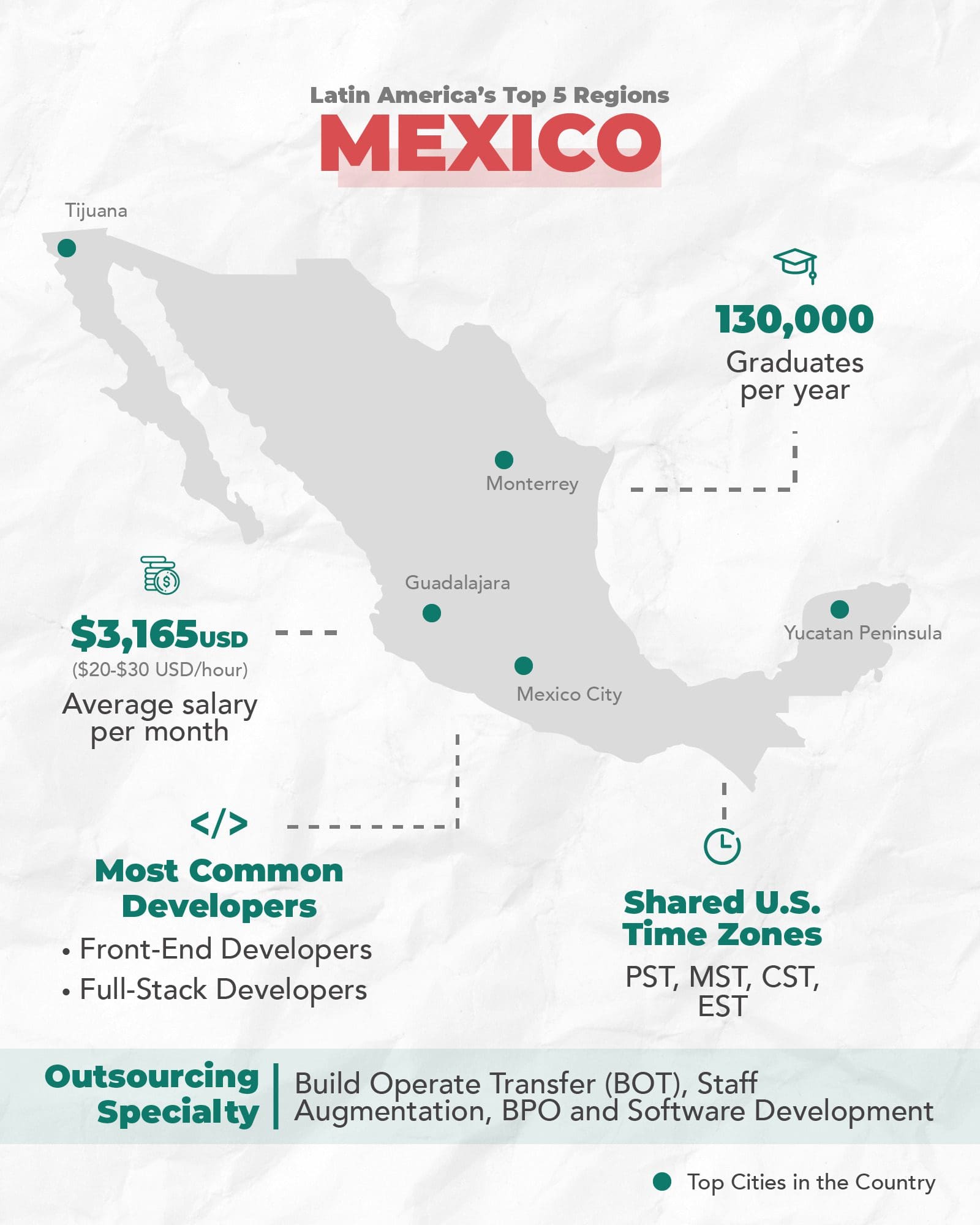 Mexico
As a result of heavy investment by both public and private initiatives in cities like Mexico City, Guadalajara, and Monterrey, Mexico has seen a sharp rise in tech graduates and startups. It also has some of the lowest average salaries in Latin America given it's relatively low cost of living. 
Mexico shares a border with the U.S. and has a high level of language and cultural proficiency within its tech talent pool. Since it is the largest Latin American country, it has multiple time zones in common with the U.S. (PST, MST, CST, EST). Travel between Mexico in the U.S. is inexpensive and, as is the case with Monterrey and Tijuana, can be done by car or some companies. 
Amount of graduates per year: 130,00

Most common software developers:

Front-end developers, Full-stack developers

Average salary:

$3,165/month

($20 – $30/hour)

Top companies with an outsourcing presence:

Honeywell, Cisco, Salesforce

Outsourcing specialty:

Build Operate Transfer, Staff Augmentation, BPO, Software Development

Top tech cities:

Mexico City, Guadalajara, Monterrey, Tijuana, Yucatàn Peninsula

Shared U.S. time zones: PST, MST, CST, EST
The Case for LATAM's Engineering Talent
With the close proximity to the U.S., a highly skilled talent pool, and strong investment in science and tech, Latin America is quickly becoming the first choice for many U.S. and Canada based companies. Along with low salaries and high skill levels, there is a potent energy within many of the Latin American tech hubs that is propelling the industry forward at a rapid pace. 
Major players within software, fintech, and IT have already established roots in this new frontier and the market will only continue to expand.
What to do with Latin America Tech Talent
For any company looking to expand into the Latin American talent pool, there are generally 3 ways to do this:
Software Outsourcing – For some companies, outsourcing part or all of their IT and Development needs to a Latin American based company is the best choice. This is particularly true for companies that may have development needs, but not a tech focus.
Staff Augmentation – For companies that are growing and want to find quality talent at a much lower cost, staff augmentation is a great option. These companies can hire employees to work remotely, while enfolding them into the central operations of the organization.
BOT (Build, Operate, Transfer) – Some companies want to build a new office or local team but don't want to pay U.S. prices for personnel. The BOT model allows companies to partner with a local agency to recruit and operate the team until it reaches a sustainable place and transfer a fully functioning office back to the company.
Whichever option you choose, CodersLink can help.
CodersLink empowers scaling companies to build, grow and manage remote tech teams in Latin America. Through remote staffing and direct placements, we ensure the best companies find the best talent to continue growing their technology teams, fill skill-gaps and respond to scaling needs. Contact us to get started!