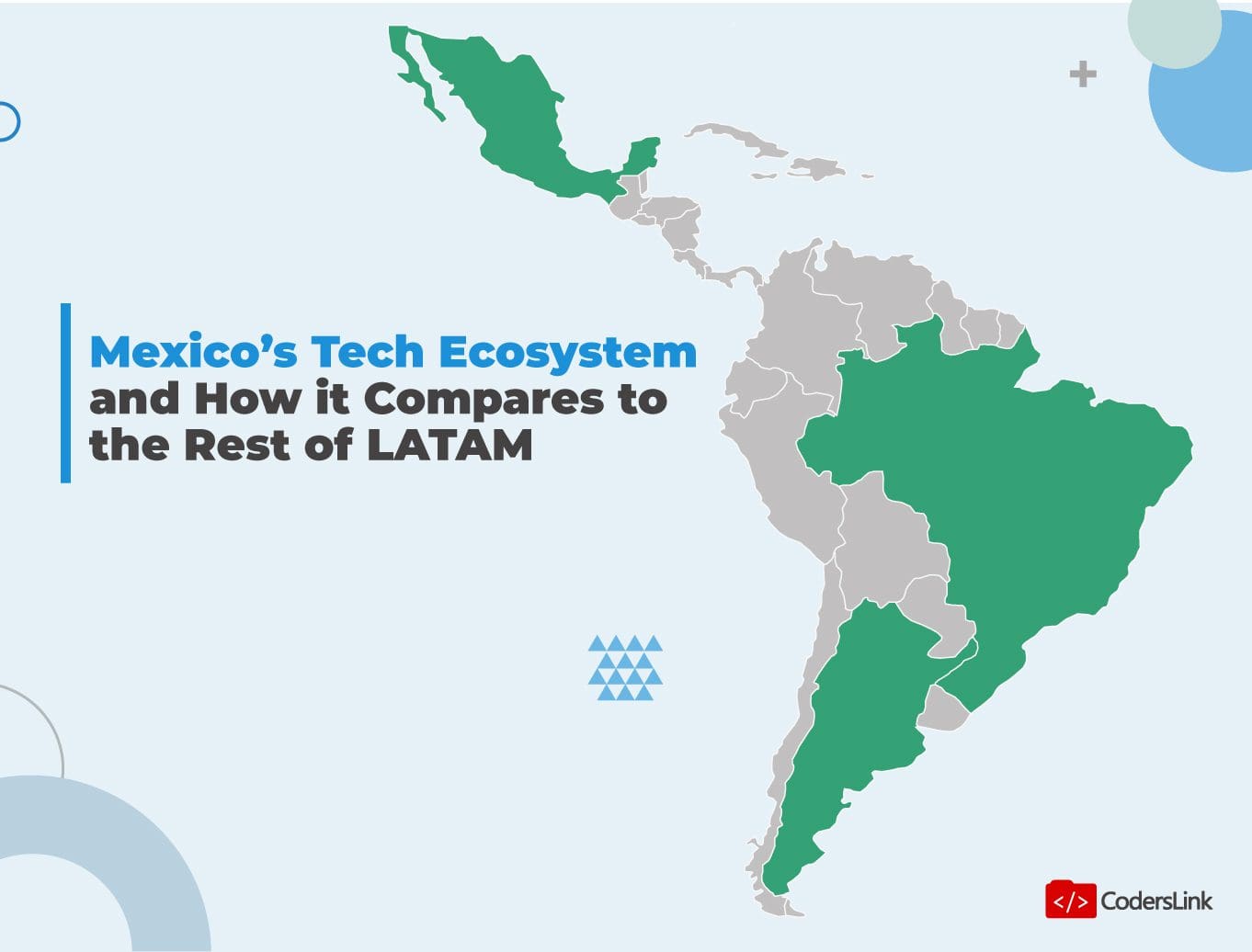 When it comes to tech expansion, Latin America has gained a lot of traction in the last few years. The region has high numbers of internet and mobile penetration, a very young population, a diverse cohort of skilled graduating engineering talent, and a market that is wide open for disruption. 
In only a few years, the region saw a spike in VC investment and VC-backed companies and startups succeeding and raising capital. In 2021, the year ended with about 34 unicorns across the Latin American region. In 2017, there were two. 
In addition, LATAM has welcomed many U.S. that have expanded to the region in a variety of capacities. Many companies have opened satellite offices or expanded operations there and others have built remote tech teams using Latin American talent from countries like Mexico, Argentina, and Brazil. 
The image below is a quick snapshot of the Latin America IT industry expansion by a variety of companies. Companies such as Google and Pinterest have opened up new offices in places like Mexico. 
According to our Mexico Tech Salary 2023 research, the average tech salaries for the different LATAM countries are as follows: 
| | |
| --- | --- |
| LATAM Country | Average Yearly Salary in U.S. Dollars  |
| Brazil  | $47,823 |
| Mexico | $36,324 |
| Argentina | $29,556 |
| Colombia | $27,264 |
| Costa Rica | $25,799 |
The salaries above, however, are only estimates and include all levels (entry-level, intermediate, and senior-level developers and tech professionals). When you parse out seniority level and specialty, the salaries can look very different. 
For example, these are the salaries for some of the most south-after tech roles with specified seniority. 
Monthly Salary
| | | | | |
| --- | --- | --- | --- | --- |
| Tech Role (Senior)  | U.S. A.  | Mexico | Brazil | Argentina  |
| Front End Developer | $9,935 | $3,587 | $5,935 | $1,673 |
| Full Stack Developer | $8,422 | $4,433 | $4,738 | $1,214 |
*Mexico and U.S. salaries are from Mexico Tech Salary Report 2023
* Brazil and Argentina salaries are from Glassdoor.com or other public sources
When it comes to the highest number of tech professionals swimming in the talent pool, Brazil, Mexico, and Argentina seem to come out on top as well.
Mexico's Tech Ecosystem
Mexico is the darling of the LATAM countries—quickly becoming the fastest-growing tech hub and a sought-after nearshoring destination for many countries in the United States. Similarly, it's become the golden destination for many traveling digital nomads looking for a 'remote-friendly' place to do business. The reasons for this are varied but include Mexico's proximity, friendliness, and infrastructure. 
Mexico has a population of 126 million people and borders the United States in a nearly 2,000-mile border. It has a strong and growing software development community, with plenty of tech hubs, hackathons, and prestigious universities contributing to the increasing interest and graduation rate of software developers and engineers. 
Mexico Quick Facts: 
Capital: Mexico City 
Population: 126 Million
Official Language: Spanish 
Average yearly tech salary in U.S. Dollars: $36,324
Mexico's Democracy Index: 6/10
Time Zone:  Mexico has 4 standard time zones which largely mirror the time zones in the United States. In October 2022, the Mexican government voted to stop the time change each Spring and Fall, except for municipalities that border the U.S. 
Currency: Real Mexican Peso (Mex$-MXN)
What to Know About Doing Business in Mexico 
In recent years, nearshoring has been a growing topic of conversation. Why? Because many U.S. companies realized that having their operations or teams in far-away outsourcing destinations like China or India was no longer viable and was, even problematic. 
Thus, Mexico has become a popular nearshore destination for many companies. One of the reasons is Mexico's proximity and time zone alignment. These two factors alone make a huge difference to remote teams and to companies that want their software development teams in close communication. 
Other reasons for Mexico's nearshore popularity are the friendly trade agreements between the U.S. and Mexico, which facilitate a lot of business dealings between the two countries. At the same time, Mexican tech salaries tend to be 30-50% lower than those in the U.S., giving the country's tech talent a competitive edge. 
Mexico's Work Culture 
Mexicans value hard work and have a strong work ethic. Like other countries in LATAM, Mexico greatly values personal relationships in business culture. The software development community is deeply interested in receiving feedback and having strong communication with their teams. 
Mexicans are highly personable and interested in forming strong relationships with those with whom they work. This makes them excellent team players but also means that effective remote team management is very important. Due to the proximity to the U.S. Mexicans have a lot of cultural overlap with the U.S., adopting many of the same cultural norms and workplace standards. 
One Notable Mexican Startup: Kavak 
The Mexico IT Industry and tech ecosystem has seen the growth of several startups in the last few years. The biggest, of course, is Kavak. The company was founded in 2016 and caused serious disruption to the used vehicle market—an apparently underserved market bubbling with potential and demand. The company allowed people to buy and sell cars in a convenient and safe way. Kavak became the first Mexican unicorn, surpassing the U.S. $1 billion valuation market in 2021. 
Brazil's Tech Ecosystem 
Brazil is Latin America's biggest country with 214 million people and a landmass that takes up a good chunk of the South American continent, making it the fifth largest country in the world. Brazil's massive size and robust population have helped make it a leading Latin American startup economy with considerable market potential. In the last few years, Brazil has seen considerable VC investment and entrepreneurial activity as the use of tech technology increases among the population. 
Brazil has several respected institutes and has affordable salary rates, which has prompted a Brazil-U.S. collaboration
Brazil Quick Facts: 
Capital: Brazilia 
Population: 212 million 
Official Language: Portuguese 
Democracy Index: 7/10
Time Zone:  Brazil has four standard time zones. GMT-3 & GMT-4. There is some overlap with the U.S. time zones, but it does get a little tricky for those in Eastern Time Zones in the U.S. 
Currency: Real (R$) 
Average yearly tech salary in U.S. Dollars: $47,823
What to Know About Doing Business in Brazil 
Brazil has a complicated tax structure, which makes it complicated for foreign companies to hire workers in the country. At the same time, Brazil has some strict laws that impose significant taxes on earnings and other business expenses such as energy consumption.  
In 2017, Brazil's lower house of the Brazilian Congress passed a bill that allowed companies to outsource any job, which was one move that began to reform the country's outdated labor laws. The move was fiercely opposed and thus it has been difficult to change Brazil's outdated labor laws. 
Brazil Work Culture
Brazil is a diverse country with many backgrounds and cultures melted together. The Brazilian people like to work together in teams. Brazil's work culture highly values personal relationships in the workplace. Although the country has embraced remote work, face-to-face interactions are emphasized. This characteristic should be taken into account when handling remote teams. 
Brazil also varies greatly by region. Each region has its own characteristics and unique culture. For example, the Southeast is very different from the North of the country. The Southeast is the most visited region and includes big hubs like Rio De Janeiro and Sao Paulo and is the economic powerhouse of the country. 
One Notable Brazilian Startup: Nubank 
One of Brazil's most-cited success stories has been the startup Nubank. David Velez began Nubank to solve one of the country's biggest challenges: banking. As it turns out, providing banking services would ignite across Latin America and fuel an entire fintech industry that would produce other startups throughout the region. In 2019, about half of the population of Brazil was "unbanked." The startups founder went on to cause disruption in the industry and ended up building one of Brazil's first major startups 
Argentina's Tech Ecosystem 
Argentina is a smaller country than both Mexico and Brazil. The country has a population of 45 million people. 
Argentina Quick Facts: 
Capital: Buenos Aires
Population: 45 million 
Official Language: Spanish 
Democracy Index: 7/10
Time Zone:  Argentina has several time zones, some of which overlap with U.S. For example, when it is 4:00 p.m. EST in the U.S. it will be 5:00 p.m. in Argentina. 
Currency: Argentine Peso ($- ARS) 
Average yearly tech salary in U.S. Dollars: $29,556
What to Know About Doing Business in Argentina 
Argentina— like other LATAM countries—has its own set of rules and bureaucratic hurdles to jump through. Argentine labor laws require companies hiring employees to have a local legal entity set up in the country. It is through that entity that you will hire and pay all of your employees. One work-around is working with a local organization that specializes and can help you hire and manage your employees. There are laws in the books that dictate how remote work should be handled. Whether a company hires independent contractors or employees, these restrictions should be considered. 
In Argentina, freelancing and contracting also have different structure and different requirements. In the country, it is essential to properly classify employees or face significant fees or penalties from the government. Argentina has a lot of labor union activity that closely monitors working conditions and minimum wage. 
Argentina's Work Culture:
Argentinian's are a business-friendly and people-friendly bunch. They are very family-oriented which translates in the way they do business. The workday traditionally includes a 3-4 hour siesta in the middle of the day and the typical workday will span from 8:30 a.m. to 8 p.m. Labor laws limit Argentinian's work hours to a maximum of eight hours a day and 48 hours per week. Argentina has a high rate of English-speaking people, particularly among those living in bigger cities and with some amount of formal education. 
One Notable Argentinian Startup: Mercado Libre:
According to Crunchbase, Argentina's startup scene is small and saw a considerable downturn in 2022. Companies in Argentina raised just over $250 million in known seed and venture funding last year. By comparison, Brazil pulled in over $5.6 billion that year. Nevertheless, during the past few years, Argentina has seen its fair share of large startups reach very successful levels. In one year, Argentina saw their number of unicorns go from five to eleven. 
The  most-recognized of Argentine unicorns, of course, is Mercado Libre (or Meli), the ecommerce company that made a gigantic splash in the local tech scene. Think of it as the LATAM version of Amazon because, although it started in Argentina, it has now spread across the region and done quite well in places like Brazil and Mexico. 
Every market it enters, it becomes a force to be reckoned with and is by far more dominant in LATAM than Amazon. It became so dominant in Argentina that reports showed that seven out of every 10 packages sent through the Argentine postal service were orders from Mercado Libre. 
Ready to hire top tech talent?
Why Mexico is the Leading LATAM provider of Elite Tech Talent 
There's a lot happening across the LATAM region. As noted above, it's a massive and diverse region with lots of potential. Today, Mexico has a couple of leading tech hubs like Guadalajara, Mexico City, Monterrey, and others. Nearshoring in Mexico has attracted a lot of attention in recent years because of the many benefits it provides to companies. Hire world-class talent in Mexico. Talk to our experts on the ground and find the talent solutions you need in LATAM.