The economic situation is forcing companies to rethink how, when, and who they hire.  
Employers have had an elongated period of adjustment the last few years. First, the pandemic, then lockdowns, shifting workplace models, supply chain issues, and then the economic fluctuations. And today, with the economic uncertainty, employers continue their adjustments in IT hiring.
According to the Linux State of Tech Talent Report 2023, 59% of organizations revised their technical hiring plans this year. Many of these revisions included hiring freezes. Yet, there are still more companies that plan to increase hiring rather than decrease. 
Other statistics about tech hiring in 2023:
Organizations that continue to hire are focusing their attention on newer technologies including

cloud (50%), cybersecurity (50%), and AI/ML (46%). 

Respondents of the Linux survey felt that

upskilling (91%) and technical certifications were more important than university education

to address today's very specific and specialized tech needs. 

Most of the survey respondents agreed that

certifications and pre-employment testing are essential

to verify skills and ensure proper candidates are chosen for the needed positions. 
While companies see the benefits of training and upskilling current staff, there is still an acute need for specialized and advanced tech talent. 
The complaint many companies had was that recruitment practices were often ineffective and led to the wrong candidates. According to the survey, 48% of respondents said that filling a technical position could take as long as 3 months. 
Not only that but 38% of organizations saw a high attrition rate: losing up to 10%  of their newly hired tech talent within 4-6 months. 
Ready to hire top tech talent?
So What Are Companies Doing to Hire Talent in Difficult Times? 
Despite some economic tribulation, however, many companies continue to have a need for qualified tech professionals that can join their team. Similarly, companies need to consider strategies to hire and retain the new staff they do acquire. 
So, what are the strategies companies are using to hire, retain, and develop their talent during uncertain times? 
1. Taking advantage of remote work to expand their talent pools. Remote work has become a world-wide phenomenon. This means that remote tech teams and global teams are becoming far more ubiquitous. It also means that companies can seek talent in unexpected places and build robust and diverse teams. 
2. Hiring in new talent markets that provide qualified talent with less overhead cost. Due to the difference in cost of living, seeking talent in different geographical areas can sometimes make it less expensive to hire high-caliber talent. Even within the U.S., differences in cost of living among different areas can make seeking remote talent a worthy proposition. 
3. Leveraging the power of recruiting experts to ensure proper candidate placements and avoid midshires. Hiring someone only to lose them a few months later is an expensive and costly endeavor. Companies seek to avoid this at all costs, as it has more than just economic impacts; it affects morale, team cohesion, and momentum. One way to avoid this is by 
4. Integrate upskilling and training to stay ahead of the curve. As the hiring landscape shifts, companies are staying ahead of the curve by offering incentives and encouraging upskilling and training to their existing staff. The good news about this is that tech talent by and large seek opportunities that offer learning and development. So by companies offering additional training, existing technical talent will see this as a positive and attractive option. Investing in training and certification of your current and incoming talent can help maintain job turnover rates low.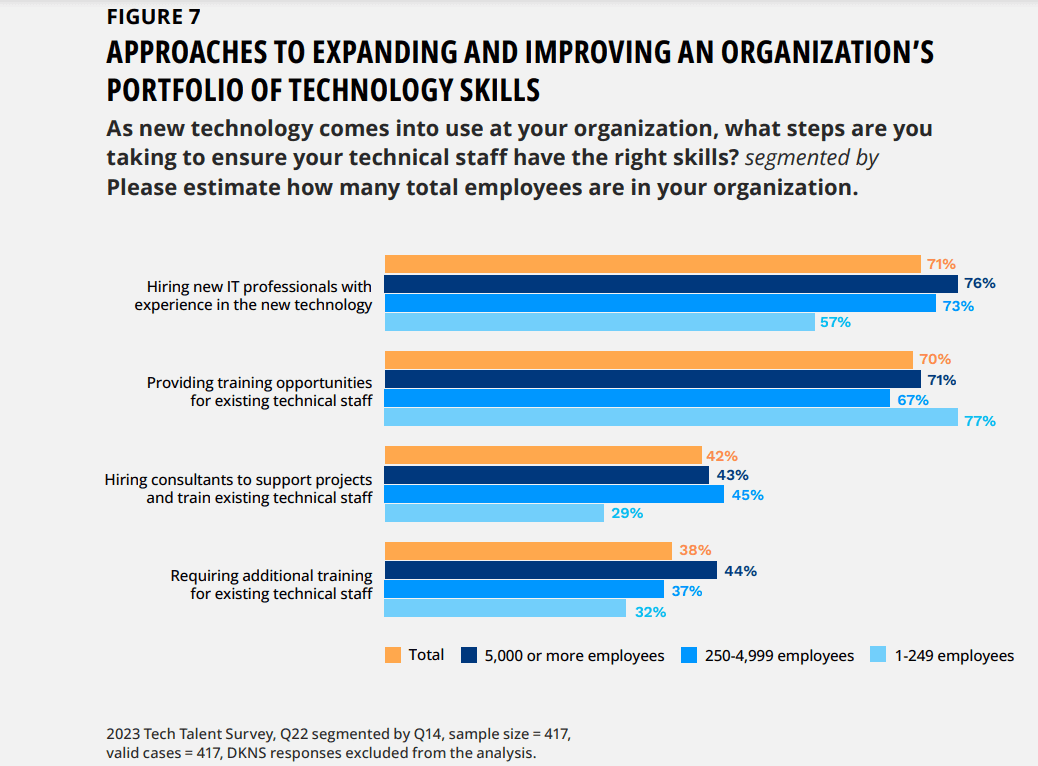 Mexico: A Unique Talent Market that May Surprise You 
In the last several years, Mexico has become an attractive market for many U.S. companies. This growth strategy—known as nearshoring— has picked up after covid-inspired supply chain woes hit companies where it hurt. 
Mexico became a sought-after location for manufacturing, automotive, and the technology industries that sought ways to expand in a much less risk-infused environment. Today, Mexico is one of the leading countries in Latin America in terms of entrepreneurial and investing activity. 
Learn more about the Mexico IT industry and why it's turning heads. Our team can tell you all about it.