As companies look to scale their tech capabilities, outsourcing becomes an obvious next step. Companies can get quality developers and engineers at a fraction of the cost of their U.S. counterpart, expanding their capabilities at a greater scale. 
However, there are a lot of options when it comes to outsourcing and a lot of factors to consider: 
How much does the average developer cost? 
What's the talent pool size for developers?
Is there long term growth potential? 
What is the time zone and does that work with my company's needs? 
Is there a cultural learning curve?
Does the region specialize in your development needs?
We've written a lot about the different regions in Latin America, including a breakdown on the top tech cities in the region, and even deep dives of leading cities within Mexico like Guadalajara and Mexico City. However, outsourcing is a global phenomenon, and it is worth looking at the top regions globally and how they compare to one another. 
The 5 main regions to consider when looking into outsourcing options are:
Southeast Asia (Malaysia, Philippines, Indonesia)
Latin America (Brazil, Argentina, Mexico) 
Eastern Europe (Ukraine, Poland, Belarus)
The Middle East (Egypt, Israel, Jordan) 
South and East Asia (China/India)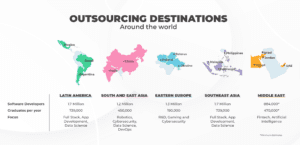 Southeast Asia: 
Overview of region: 
Often initially overlooked due to its proximity to India and China, Southeast Asia has a lot to offer regarding IT outsourcing. Southeast Asia has a growing GDP, large population, and has recently decided to invest heavily in STEM and Software Engineering. Though still not at the same level as India or China when it comes to talent availability, talent quality and tech infrastructure, they are putting themselves in a trajectory to compete.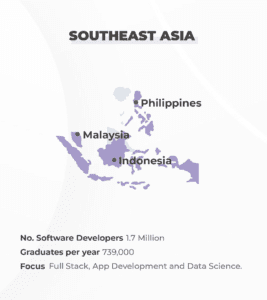 Tech Ecosystem:
In recent years, the international community has started to pay attention to the growing tech scene in countries like Indonesia and Malaysia. One of the key indicators of this is the rise in growth stage capital. Southeast Asia has access to over 60% of the world's population, which means that it is not only a large pool for tech talent, but also an important testing ground for new tech and innovation.  Many cities, like Singapore, make it easy for international companies to set up shop and provide an attractive environment for recruiting top notch talent. 
Also, Southeast Asia has the lowest average cost per developer ($18-$40 per hour). 
Popular Countries:
Indonesia, Malaysia, Philippines, and Singapore
Talent availability and graduation rate: 
Total number of software developers: 1.2 million
Total number of graduates: 450,000
Being home to the most populous and most densely populated region in the world, one would expect it to have a larger talent pool than it currently has. This problem has already been recognized and put to work by the countries in this region. For example, in the Philippines, there is a pool of 95,000 developers, which is small compared to India and China. But they are graduating 130,000 IT graduates a year, which means that the talent pool will grow exponentially in the upcoming years.
Talent focus:
There is a focus on robotics, cybersecurity, data science and DevOps, though much of the outsourcing is focused on processing and low level coding needs. 
Speed to get up and running/popular partners:
Given the range of languages spoken and the lack of infrastructure, there can be some challenges for getting up and running. There are, however, some major players developing offices there. Amazon has built a facility in the Philippines while Google has set up offices in Jakarta. Expect to see significantly more international business over the coming years.
Latin America 
Overview of region: 
Latin America is an appealing outsourcing location for a number of reasons. Many of the countries either share a time zone with the U.S or are close to one. There is a highly educated talent pool and strong cultural affinity and understanding for U.S. based companies. With a strong international business presence, federal investment in STEM and innovation, and a growing start-up community, Latin America is a leading region for outsourcing and nearshoring.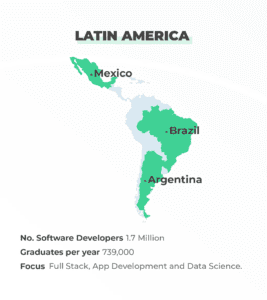 Tech Ecosystem:
Some of the leading engineering universities in the world are found in Brazil, Mexico, and Argentina, producing a growing talent pool specializing in senior development and niche tech innovation. Chile, for example, has made a special investment in AI and Blockchain research, while Brazil is one of the leading app developers in the world. The city of Guadalajara, Mexico has impressed the international community with its innovation and start-up community and is often referred to as the "Silicon Valley of Latin America."
Though developer rates are higher than other regions in the world ($30 – $50 per hour), companies can still save significant amounts of capital by hiring Latin American developers and get the added benefit of its proximity and highly qualified talent.
Popular Countries/Hubs:
Brazil, Argentina, Mexico
Talent availability and graduation rate:
Total number of software developers: 1.7 million
Total number of graduates: 739,000
There is a large and growing talent pool, with Brazil leading the way with 475,000 tech graduates per year. Mexico has over 230,000 tech grads and countries all over Latin America are growing. With engineering graduation rates at all time highs, Latin America will only continue to grow as an outsourcing region. 
Talent focus:
With special focus on full stack development, app development, and data science, Latin America is often a second hub for many companies wanting high level, quality developers at a lower cost. 
Speed to get up and running/popular partners:
Many of the leading countries, like Mexico, Brazil, and Argentina, have very friendly international business laws, so it's relatively easy to get started. With companies ranging from Twitter, Facebook, and Google all the way to JP Morgan and Microsoft, there are hundreds of large partners driving the tech economy throughout Latin America. There are also plenty of partners in the region that help companies looking to expand to the region with landing pads. 
Eastern Europe: 
Overview of region:
After the fall of the Iron curtain, many Eastern European countries began Western friendly business initiatives to build out the tech economy. Now, with countries like Ukraine, Hungary, and Poland, Eastern Europe is one of the most popular outsourcing regions for international companies, particularly for those based in the U.K or Western Europe. Eastern Europe has access to leading universities and benefits from substantial investment by the federal government in tech innovation. Along with a growing VC community, Eastern Europe is not slowing down as a top outsourcing destination.
Tech Ecosystem:
In 2017, Ukraine was named the top outsourcing destination by the Global Sourcing Association and Poland has the sixth largest economy in the EU. There is a large R&D presence as well as developers working in the gaming and cybersecurity space. With leading tech universities like University of Warsaw in Poland and Charles University in Prague, Czech Republic, there is a growing focus on innovation and the power of IT services in building the economy. 
Popular Countries/Hubs:
Ukraine, Hungary, Poland
Talent availability and graduation rate:
Total number of software developers: 1.3 million
Total number of graduates: 190,000
Poland leads Eastern Europe in availability of tech talent with around 300,000 software development experts, graduating over 80,000 new IT graduates every year. Ukraine follows close behind in the availability of tech talent with over 200,000 tech specialists and 30,000 at an entry level. 
Talent focus:
There is a focus on tech R&D, gaming, and cybersecurity.
Speed to get up and running/popular partners:
It is relatively easy to get started in Eastern Europe due to the high amounts of embedded outsourcing companies and international friendly policies for businesses at a federal level. Major players like Google, IBM, Fujitsu and Motorola all have a presence in Easter Europe. 
Middle East: 
Overview of region:
Despite the high levels of tech integration in cities like Dubai and Tel Aviv, the Middle East is often overlooked as an outsourcing destination. However, as countries like Egypt and Jordan have opened up to the West, there is a growing outsourcing economy in the IT space. Israel, with a total population lower than that of New York City, still has a growing number of tech talent with a high level of Western cultural competency. As companies look to outsource in Asia, the Middle East is attractive since it has a higher level of time zone crossover in that region, particularly for EU countries.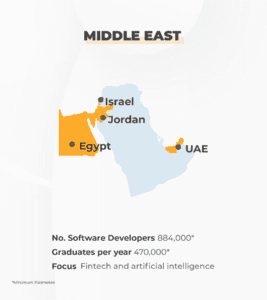 Tech Ecosystem:
The Middle East has over 500 million total people, many of whom are young and hungry to work in a global economy. A few cities, like Dubai, pioneered innovation hubs like the Dubai Internet City. Israel has the second highest R&D expenditure as a percentage of total GDP. Although there are some nations still struggling with political unrest and stability, many are stable and very friendly to working across international lines to further their economy. 
Popular Countries/Hubs:
Egypt, Israel, Jordan, UAE
Talent availability and graduation rate: 
Total number of software developers: 884,000*
Total number of graduates: 470,000*
*These numbers are minimum estimates. There is limited/insufficient available data to fully account for regional numbers. 
The Middle East is a bit late to the outsourcing game, and thus is still lagging behind where they should be as far as talent pool given their population. However, given the recent surge in tech investment at both a university and entrepreneurial level, this is bound to increase.
Talent focus: 
There is a focus on fintech and artificial intelligence.
Speed to get up and running/popular partners:
The speed to get started varies significantly depending on the country. The UAE and Israel have a long history of international interaction, so it is easy to get up and going there. Countries like Egypt and Jordan may take a little longer. With companies like Microsoft and Deloitte building a presence, as well as the Startup Act, the outsourcing economy is on track for major growth. 
South and East Asia – China and India: 
Overview of region:
Although China and India are technically both in Asia, they deserve a category all to themselves. Both countries were the first major outsourcing hubs globally, they have the first and second highest populations in the world, there is a strong emphasis on STEM and engineering and a low cost of living. It is no wonder they still lead the world in the outsourcing economy.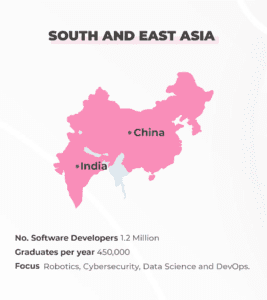 Tech Ecosystem:
Almost half of the top 500 companies worldwide have set up outsourcing posts in India, so there is a deeply embedded IT service community. China is the largest economy in the world and often boasts some of the world's best developers. Since the majority of academic studies in both countries focus on science and tech, the workforce is technically savvy and excels particularly at functional programming. 
Talent availability and graduation rate:
Total number of software developers: 12.5 million
Total number of graduates: 7.5 million
One of the areas China and India tower over other outsourcing destinations is in talent availability. China graduates over 4.7 million tech graduates a year while India has a talent pool of over 5 million software developers. 
Talent focus:
Although there is a growing demand for higher level, niche software development, India and China have a general focus on low level coding and IT management.
Speed to get up and running:
Due to constantly changing policies, an unstable technical infrastructure, and a political aversion to the West, China and India can be a challenging place to get up and running. However, there are a number of local companies that help navigate that, so it is still a feasible option. 
In summary:
Outsourcing is truly a global phenomenon and provides seemingly endless opportunities for companies to scale their operations. Each region has unique benefits, as well as challenges, and it's important to explore the options before making a decision. 
It might be easy to think that going to the region with the most developers is the best bet. However, the size of the talent pool is only one small part of the consideration. Are you okay with a 12 hour time zone difference? Do you envision needing to travel there? Can you rely on the infrastructure of the country? Is there long term growth potential? 
The Middle East and Southeast Asia both have low rates and huge growth potential, but lack some of the maturity and depth of other regions, thus increasing the risk. 
Eastern Europe has highly trained developers, but at a higher price and smaller, more competitive pool. 
India and China lead in numbers and depth, but lack a friendly infrastructure. 
Latin America is a higher rate, but provides the benefit of top tech talent in a U.S. timezone. 
Wherever you decide to outsource, there is no doubt that it will help grow your company and expand your offerings.
CodersLink:
CodersLink empowers scaling companies to build, grow and manage remote tech teams in Latin America. Through remote staffing and direct placements, we ensure the best companies find the best talent to continue growing their technology teams, fill skill-gaps and respond to scaling needs. Contact us to find top Latin American tech talent.