Software developers' salary is one of the fastest-growing salaries around the world but even more in the US, but how much does a software engineer make then?. The rates fluctuate like gasoline prices, constantly seesawing as supply and demand increase and change. A software engineer's salary, for example, will depend on various factors like seniority, country/state they are from, role or position in the company, company size, comprehensive benefits, and more. Salary in tech is then one of the most important considerations when hiring in this industry that is expanding, dynamic, and in high demand.
CodersLink conducted a thorough study to understand the behavior of software developers' wages in the technology industry — a sector that is bustling and highly competitive in the US and how this is causing American companies to hire or outsource talent from developing countries in Latin America. 
Our report, Tech Salaries In Mexico, details each of the elements that outline the panorama of salaries in the country. In this publication, we dissect the salaries of software developers and seven other of the primary jobs that most American companies request.
In past articles, we've explained why Mexico has become the leading talent provider in Latin America for the United States. To be brief, let's summarize it in these 4 points: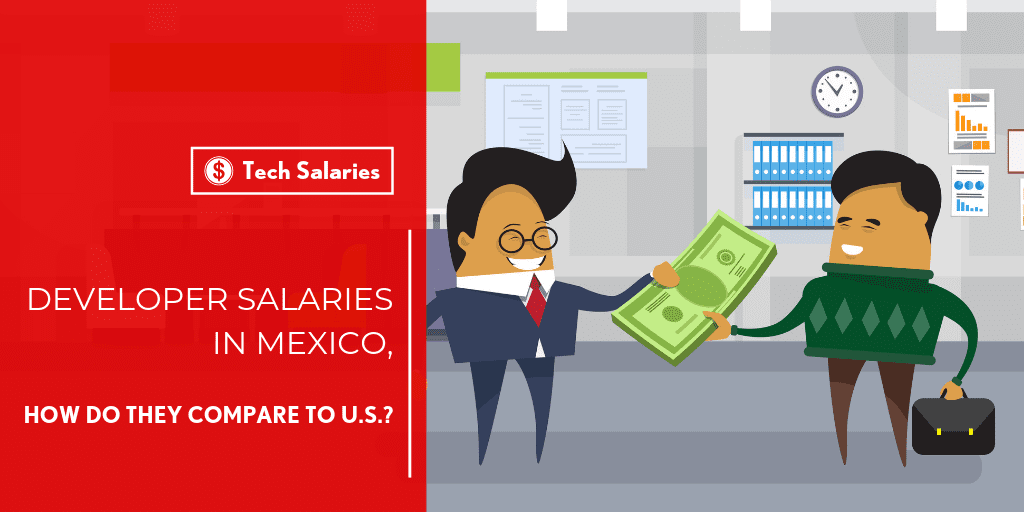 In the report Tech Salaries In Mexico, wages are analyzed in 3 of the main cities with a developed technological ecosystem: Guadalajara, Monterrey, and Mexico City. For practical purposes, let's take into account the data obtained in the city of Guadalajara, which reports having the highest salaries out of the 3, being the difference between the lower end and the upper end of the spectrum is not greater than 11%.
To learn about the salary spectrum of Monterrey and Mexico City, or to put it all into context, download our free ebook right here:
So now that we are on the same page…
How much does a Mobile Developer make in Mexico?
Mobile Developers create mobile applications, test, and correct errors. They may be software engineers or web designers, but they must have experience in computer programming and specialized in mobile technology like Google's Android platform and Apple's iOS.
In the United States, android developers, for example, can receive a salary that ranges from $75K to 118K dollars per year, while in Guadalajara, Mexico, the annual average is 45K dollars (this is 3k per month).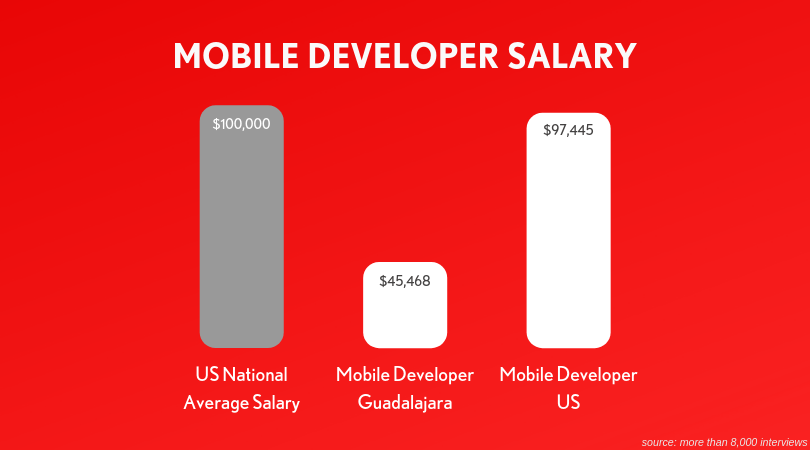 How much does a UX/UI Designer make?
A user interface (UI) designer ensures the visual communication of each page of a user's path. A user experience designer (UX) focuses on how something works and how people interact with it. 
A UX designer needs to know how to run, facilitate and analyze research and data, and UI designers should know the composition and graphic design and have a unique ability for palettes, typography, and branding to make the interface shine and have its own identity.
Salaries for UI/UX designers can reach up to 130K dollars yearly in the United States ($ 62K at best) while in the city of Guadalajara, the average salary stays below 40K dollars per year (3K per month).
How much does a Software Engineer make?
A software engineer yea is a topic of much interest to company owners and startups. This role encompasses computer professionals who use knowledge of engineering principles and programming languages to create software products, develop computer games, and run network control systems.
Due to its broad scope of work, salaries in the US are around $145K with compensation of up to 22K. The position as a Software Engineer in Guadalajara receives an annual salary of $43K, which is even lower than the national average in Mexico.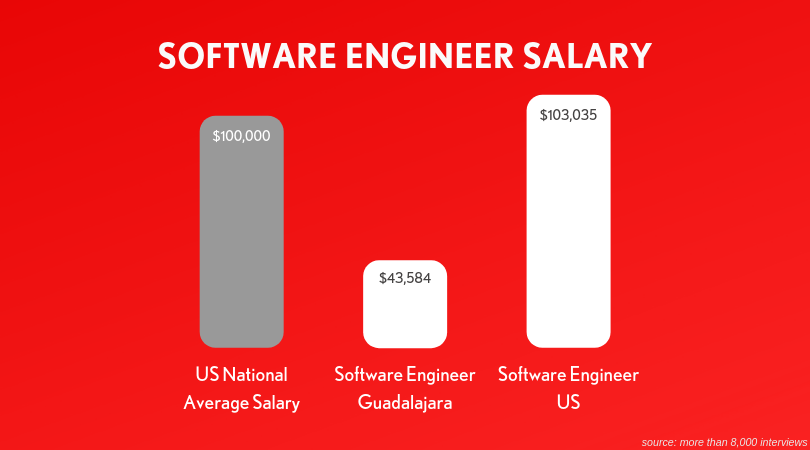 How much does a Project Manager earn?
Essentially, the Project Manager is responsible for the success or failure of a project. The typical responsibilities of this position include planning, execution, and closing of projects, coordination of the teams, coordination, and direction of the general expectations of the company.
In the technology industry, a project manager's salary can range from $51K to $111K in North America, while in Mexico, they average $38K nationwide.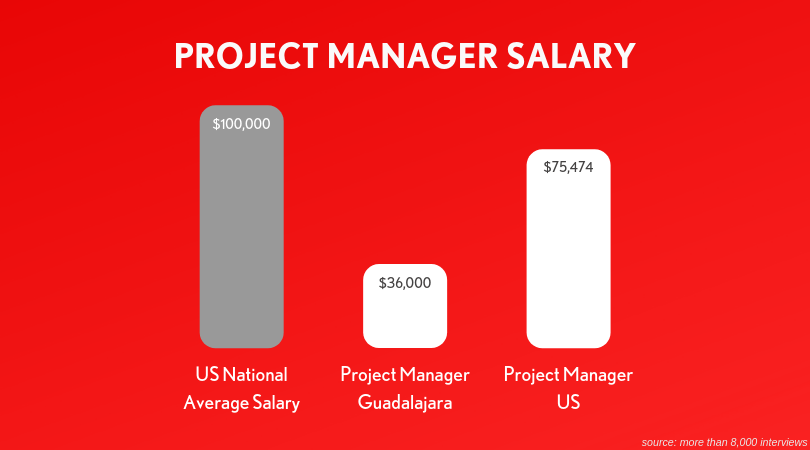 What's the salary for a Technical Support Specialist?
In its functions, it provides assistance and technical support to companies or consumers who experience technical, hardware, or software problems.
Out of the eight roles described in this publication, the Tech Support Specialist has the lowest salary of the group. In the United States, this role reports income as low as $26K, with a maximum of $52K. In Mexico, the story is similar to a national average of 28K.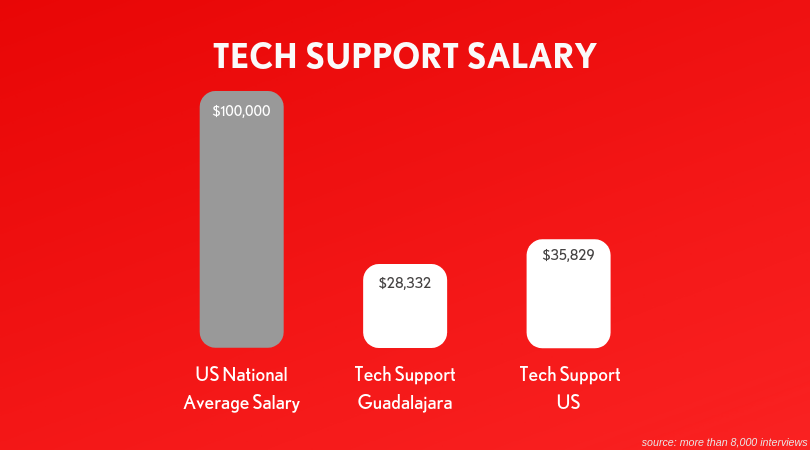 How much does a System Administrator make?
A System Admin is responsible for executing, maintaining, operating, and ensuring the correct operation of a computer system and/or a computer network.
The system administrator's salary can go from 46K dollars to $96K in U.S. based companies. And the $33K yearly in remote teams in Guadalajara.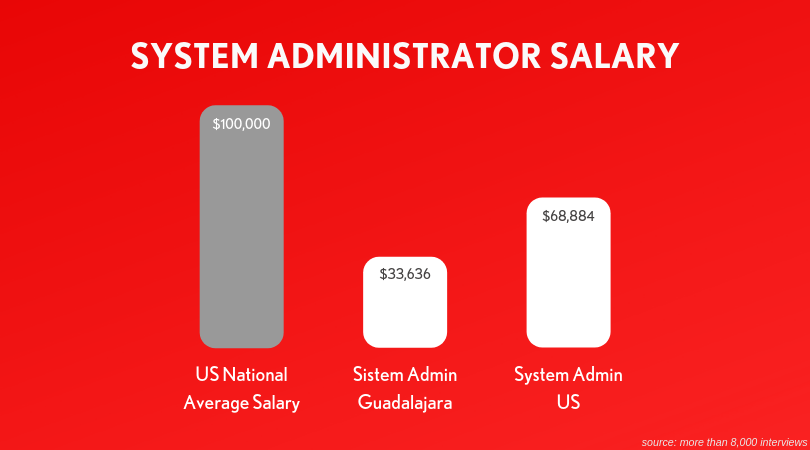 What's the salary for a QA Tester?
The QAs have a professional profile aimed mainly at measuring the quality of the processes used to create a quality product.
Among its functions are the design and integral execution of tests, systematic measurement, comparison with standards, monitoring processes … all aimed at the prevention of errors during the process of product development. 
Their salaries do not exceed the national average of the United States, with a range of 38K to 79K dollars per year. In Guadalajara, however, their wages of $39K are a little higher than the national average in Mexico.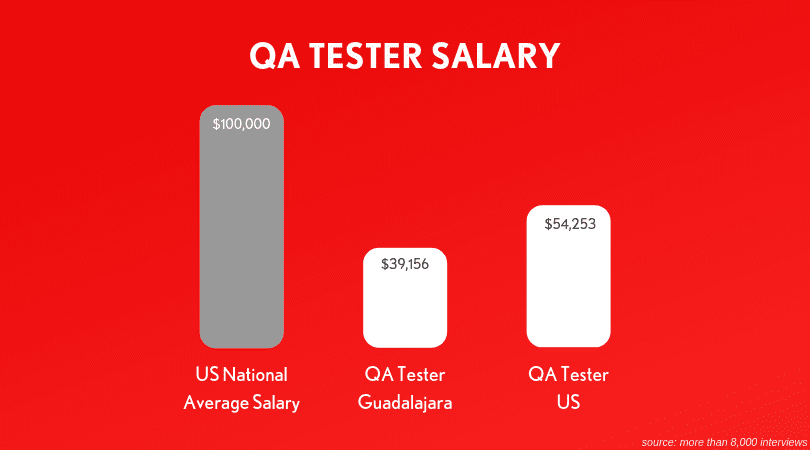 Hire pre-vetted talent ready to work for your company. Chat with us today
How much does a Developer Operations Engineer make?
Finally, a DevOps or DevOps Engineer is an IT professional who works with software developers, system operators (SysOps), and other production IT personnel to monitor code publications. This role requires someone who possesses the skills necessary to overcome traditional barriers between software development teams, testing, and operations.
The organizations that have joined the so-called "DevOps Culture" have very high performance: they deploy up to 30 times more code than their competitors and fail 50% less in their implementations.
Due to their importance, they can receive $155K dollars plus compensation and $91K minimum in the United States. In Mexico, the national average for this role is $44K.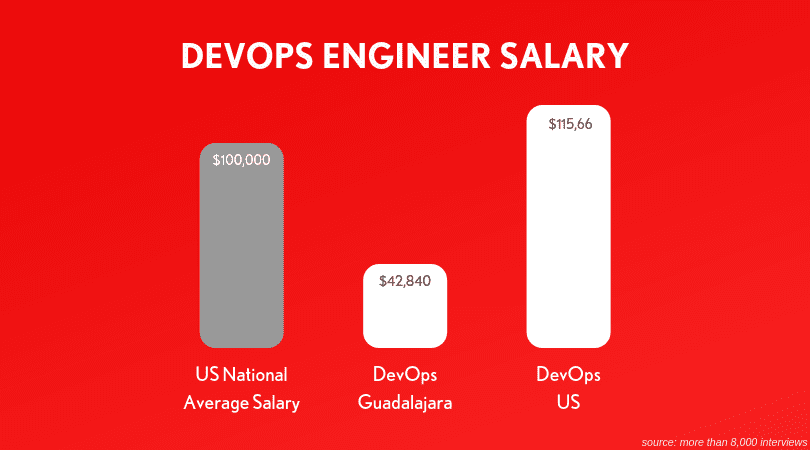 How much money does a Web Designer and a Web Developer Make make?
Both web designers and web developers make websites. They satisfy visual and interactive practicality for web content. Though the two jobs are closely connected, an in-depth look at the job responsibilities and salary of a web designer vs. a web developer will spark some essential differences.
Web Developer Salary
A survey of nearly 20,761 web developers by Glassdoor found that the average salary nationwide per year in the US was 79K dollars plus 5K in additional benefits. In comparison with Mexico, a web developer makes 15K dollars a year.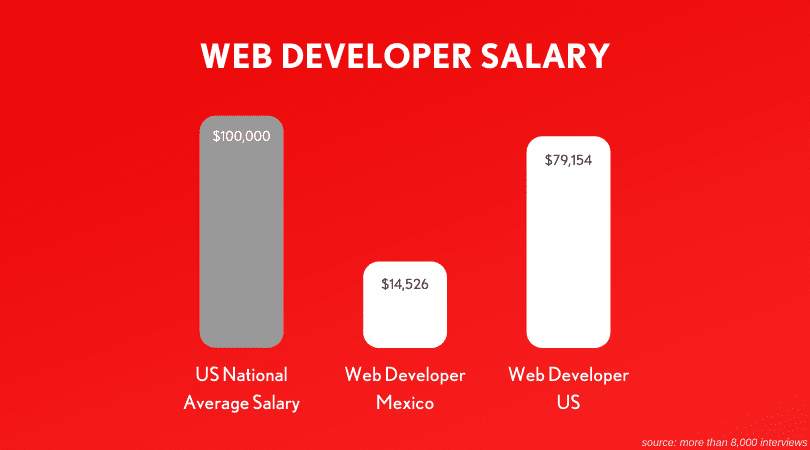 Web Designer Salary
Another Glassdoor survey of 3,346 web designers shows that the salary in the US for this position is 55K dollars a year vs. 9K in Mexico.
The higher yearly salary earned by web developers compared to web designers reveals a higher interest for designers with technical skills like programming.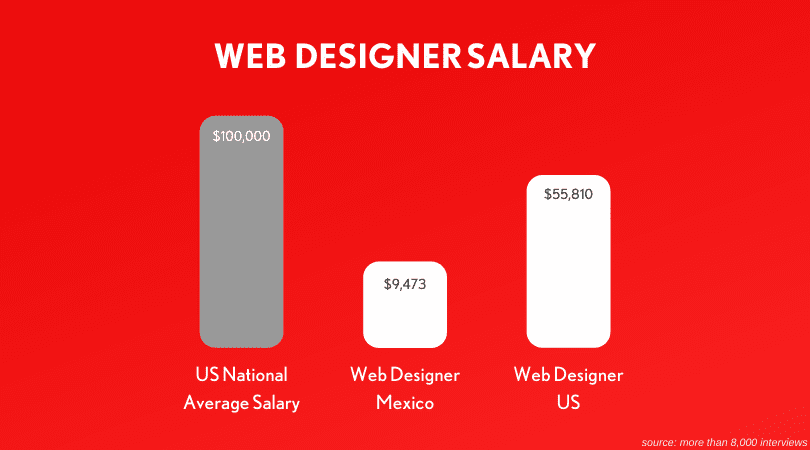 Closing Thoughts
Wherever you look, Mexico has more affordable salaries in the three major technology centers: Monterrey, Guadalajara, and Mexico City. The difference between the lower end and the upper end of the national wage has a variation of no more than 11%, and this is due to the different cost of living. 
If you're thinking about growing your team but want to understand the intricacies involved in building it, we built a tactical guide with information to help you build your first or your tenth team.