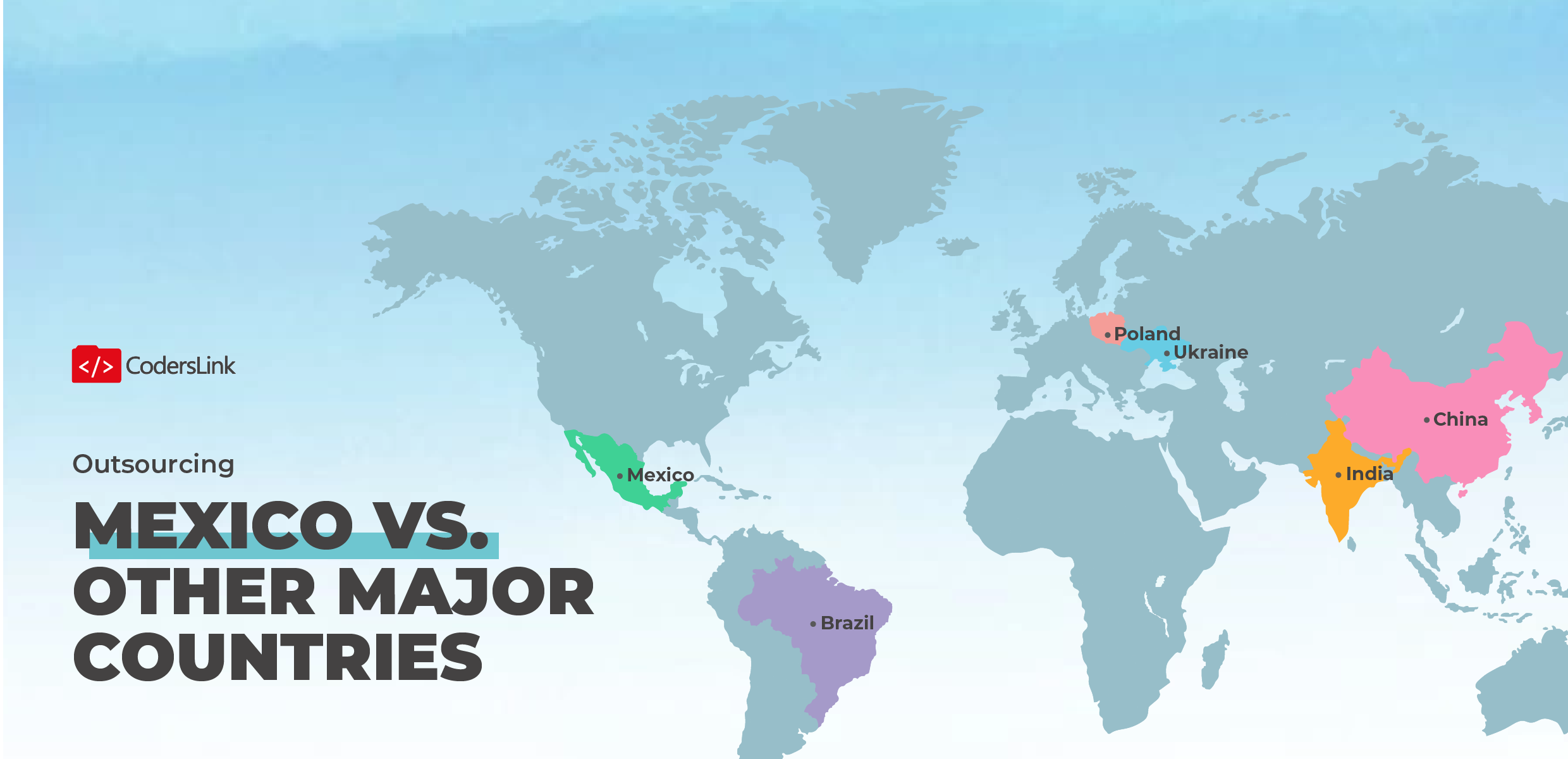 Ready to hire top tech talent?
How does Mexico compare to other major outsourcing countries?
There is a lot that Mexico has to offer for companies looking for outsourcing, nearsourcing, or BOT options. To name a few, Mexico:
Has some of the top tech universities in Latin America

Shares a time zone with every U.S. time zone

Has a fast growing number of highly skilled IT professionals

Has a an average salary rate below other top performing Latin American countries
We've written a number of deep dives on cities like Monterrey and Tijuana and compared Mexico with other Latin American regions. Mexico, particularly for North American companies, is a strong contender for companies wanting to scale their capabilities. 
However, outsourcing is an international business and it's important to understand the other top countries when making a decision on where to expand.

Here's a look at the top 5 countries, besides Mexico, for outsourcing. Below you will find insight into:
India

Poland

Ukraine

Brazil

China
India:
India has been a leader in IT outsourcing from the beginning of the tech boom. With high levels of IT graduates, high English proficiency, and a low cost of living, India is a natural leader in the outsourcing world. 
Although initially known for low-process IT services and coding, recent startups and international investment are pushing India into more niche markets like AI. Particularly in Bangalore, the tech leader in India, technology is booming. 
Despite the high level of available developers, there are challenges to engaging with India. Navigating the cultural realities of India can be complicated and there is a risk of companies misrepresenting capabilities. It's also on the other side of the world (literally) and it is difficult to collaborate in real time.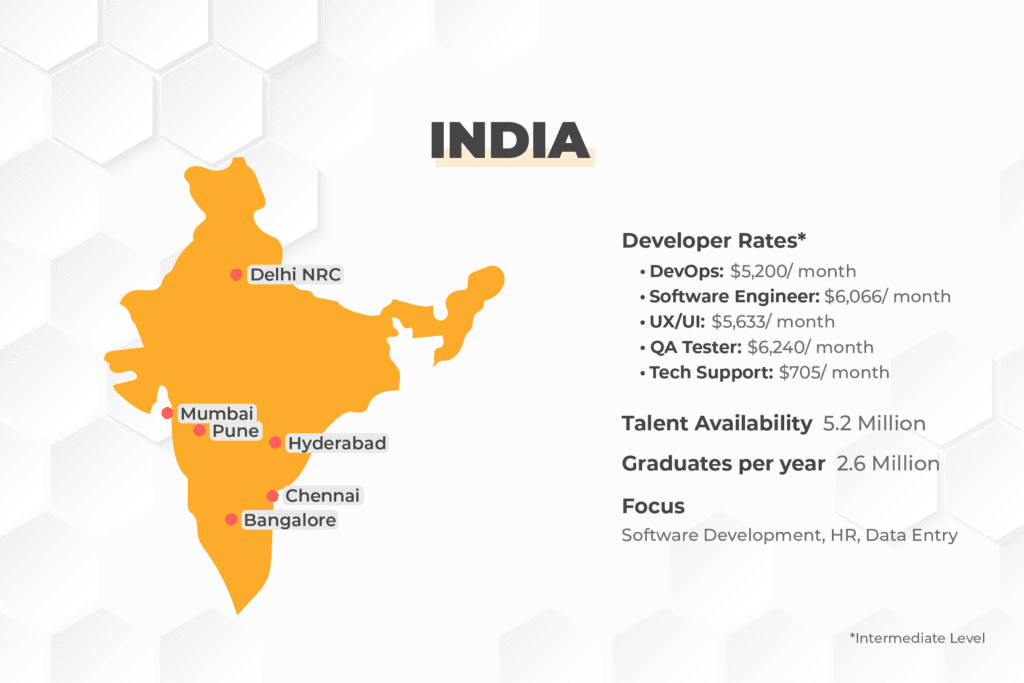 Developer rates (Intermediate level):
Popular cities/hubs: Bangalore, Chennai, Delhi NCR, Mumbai, Hyderabad, Pune
Talent availability: 5.2 million
Graduation rates: 2.6 million
Outsourcing specialties: Software development, HR, data entry
Expected timeline to begin: Due to vast time difference, lack of infrastructure, and challenge finding trustworthy partners, India can take a longer time to get going.
Poland:
Poland brings a great balance between top tier training and low cost of living. In Warsaw, Google has set up a campus and big companies like Intel have planted roots as well. Western Europe is experiencing a developer shortage and is pushing more and more companies to invest in Poland and the overall tech scene.
Poland is leading the way in Central and Easter European countries for innovation and the government is investing in a startup infrastructure. Poland also has a younger population that is interested in the tech space. 
With Google Cloud announcing a strategic partnership with Poland's Domestic Cloud Provider, it is getting easier for Polish developers to stay connected and up to speed with changing technologies.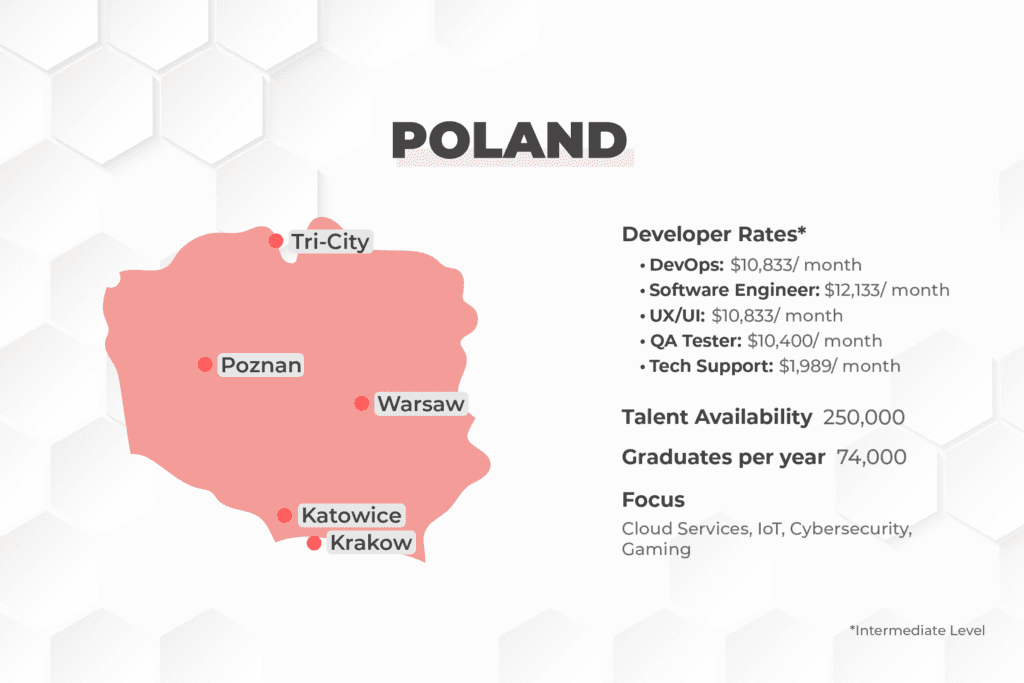 Developer rates (Intermediate level):
DevOps: $10,833/month

Software Engineer: $12,133/month

UX/UI: $10,833/month

QA Tester: $10,400/month

Tech Support: $1,989/month
Popular cities/hubs: Warsaw, Krakow, Wroclaw, Katowice, Tri-City, Poznan
Talent availability: 250,000
Graduation rates: 74,000
Outsourcing specialties: Cloud services, IoT, cybersecurity, gaming
Expected timeline to begin: Because of friendly federal regulations and its participation in the EU, it is fairly easy and quick to get up and going in Poland.
Ukraine:
Ukraine's tech scene has been described as one of the most promising in all of Eastern Europe. With a lively startup scene and more and more high level programmers, Ukraine has a lot to offer regarding outsourcing. 
After the Iron Curtain fell, Ukraine began to intentionally work with the West to build democracy and strong trade relationships. This has paid off in a highly skilled workforce with a friendly government to international business.
There are some challenges with geopolitical tensions between them and Russia. Certain regions are being held back by conflict and instability. However, most of the main tech hubs are far from areas of conflict and not affected.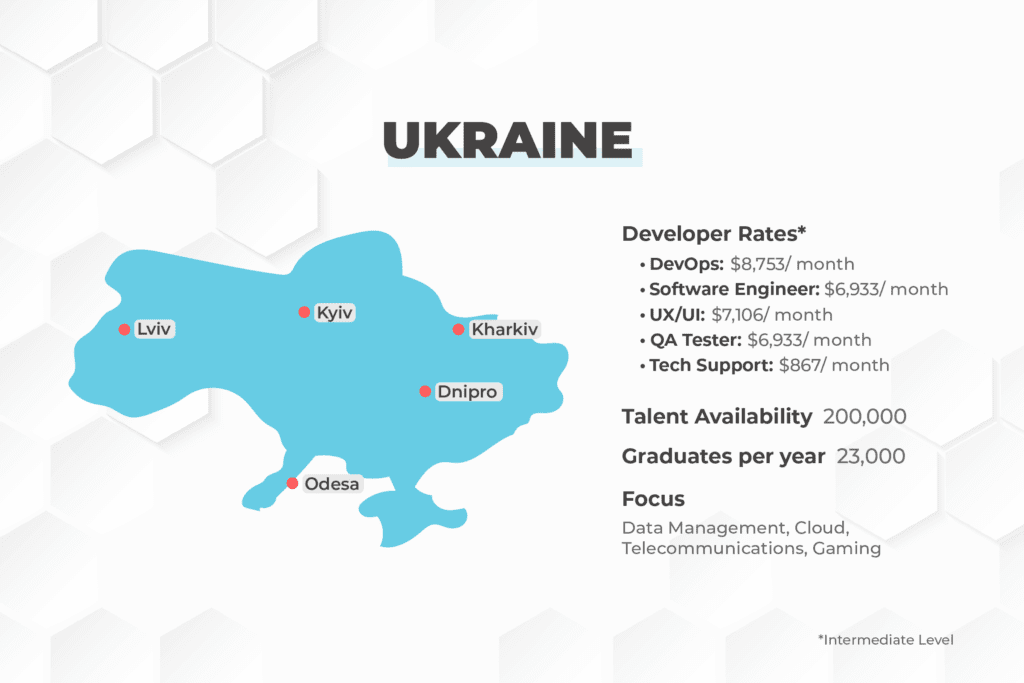 Developer rates (Intermediate level):
Popular cities/hubs: Kyiv, Lviv, Kharkiv, Dnipro, Odesa
Talent availability: 200,000
Graduation rates: 23,000
Outsourcing specialties: Data management, cloud, telecommunications, gaming
Expected timeline to begin: Similar to Poland, Ukraine is fairly quick to get up and running due to proximity to Western Europe and friendly infrastructure.
Brazil:
Brazil is home to a thriving international community of tech titans. Twitter, Google, Apple, Intel, and Microsoft are all deepening roots in the country. With the highest tech graduation rates in Latin America, large amounts of venture capital, and a thriving startup ecosystem, its no wonder it ranks in the top countries for outsourcing. 
Not only is there a strong federal investment in IT, but Brazil has some of the best tech universities in Latin America. Since cities like Sào Paulo and Rio de Janeiro are world class cultural hubs, it's easy to convince talent to stay in Brazil.
Brazil does have some of the highest outsourcing rates, but still a fraction of the cost of a U.S. or UK based developer. 
Developer rates (Intermediate level):
DevOps: $8,187/month

Software Engineer: $7,255/month

UX/UI: $6,000/month

QA Tester: $3,000/month

Tech Support: $1,235/month
Popular cities/hubs: São Paulo, Florianópolis, Recife, Belo Horizonte, Curitiba
Talent availability: over 700,000
Graduation rates: 475,000
Outsourcing specialties: AI, software development, app development, data science
Expected timeline to begin: With Brazil sharing a time zone with the U.S. east coast and the established outsourcing community there, it is a quick turn around to get up and running. 
China
The appeal of China for outsourcing is obvious. There are so many developers! And with an education system that prioritizes tech and engineering, that number keeps growing every year. 
China was initially known for outsourcing manufacturing and product development, which is still a major part of their economy. But there is also a sizable market for IT and software development outsourcing among China's very young and educated population. 
And now with China leading the world in GDP, there is sizable capital being invested in growing the tech infrastructure throughout the country. 
The Chinese government can make some levels of international partnership difficult, so it's important to work with a trusted recruiter before outsourcing in the country. 
Developer rates (Intermediate level):
DevOps: $3,762/month

Software Engineer: $2,905/month

UX/UI: $4,420/month

QA Tester: $2,640/month

Tech Support: $1,785/month
Popular cities/hubs: Dalian, Shanghai, Beijing
Talent availability: 7 million
Graduation rates: 4.7 million
Outsourcing specialties: Standard IT support, software development, product testing
Expected timeline to begin: Despite the vast number of available software developers in China, the government regulations make it complicated to navigate getting started in China. Because of this, it can take longer than the other countries mentioned to get established there. 
How are companies interacting with these countries?
In all of these countries, there is more than one way companies are choosing to outsource their IT needs. Some companies, particularly startups and smaller companies, only need help on a project basis. Other companies are wanting to build an entire department in these countries. 
Regardless, it is always smart for companies to work with a trusted staffing agency to help navigate the potential challenges of outsourcing in other countries. IT staffing agents can help you find the right, niche developer for your particular project. Or they can help build an entire office through a process called Build, Operate, Transfer (BOT). 
With BOT, the staffing agency helps build your foreign team, operate the team through HR and other necessary systems, and then transfer the operations back to the company once they are ready. 
Outsourcing is one of the best ways to scale your business efficiently, so do your research and find the right help!
About CodersLink:
CodersLink empowers scaling companies to build, grow and manage remote tech teams in Latin America. Through remote staffing and direct placements, we ensure the best companies find the best talent to continue growing their technology teams, fill skill-gaps and respond to scaling needs. Get started growing today!