Global & Latin America IT Outsourcing
Of today's most in-demand outsourced business processes, IT services and software programming are the top 1 on the list.
Outsourcing in the technology industry has shown benefits in the short term, such as starting projects faster and getting them to market more quickly. In the long term, such as cost savings and increased productivity.
For a long time, the outsourcing industry was focused on the Asian and Eastern European regions. However, the Asian giants, China and India, remain the leaders in the IT outsourcing market as they have the largest number of software engineers in their talent pool.
Latin America vs. Asia vs. Eastern Europe
The top three options for outsourcing globally are Asia, Eastern Europe, and Latin America, with each region having its unique benefits and challenges.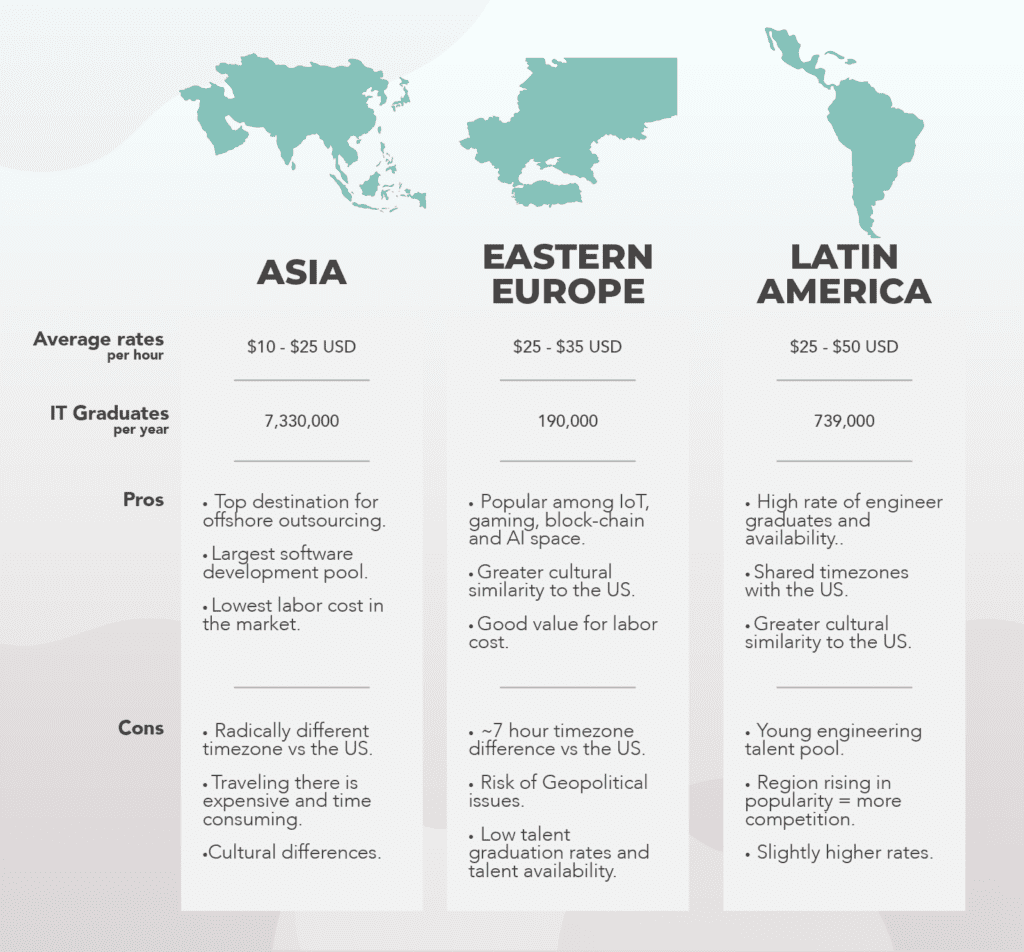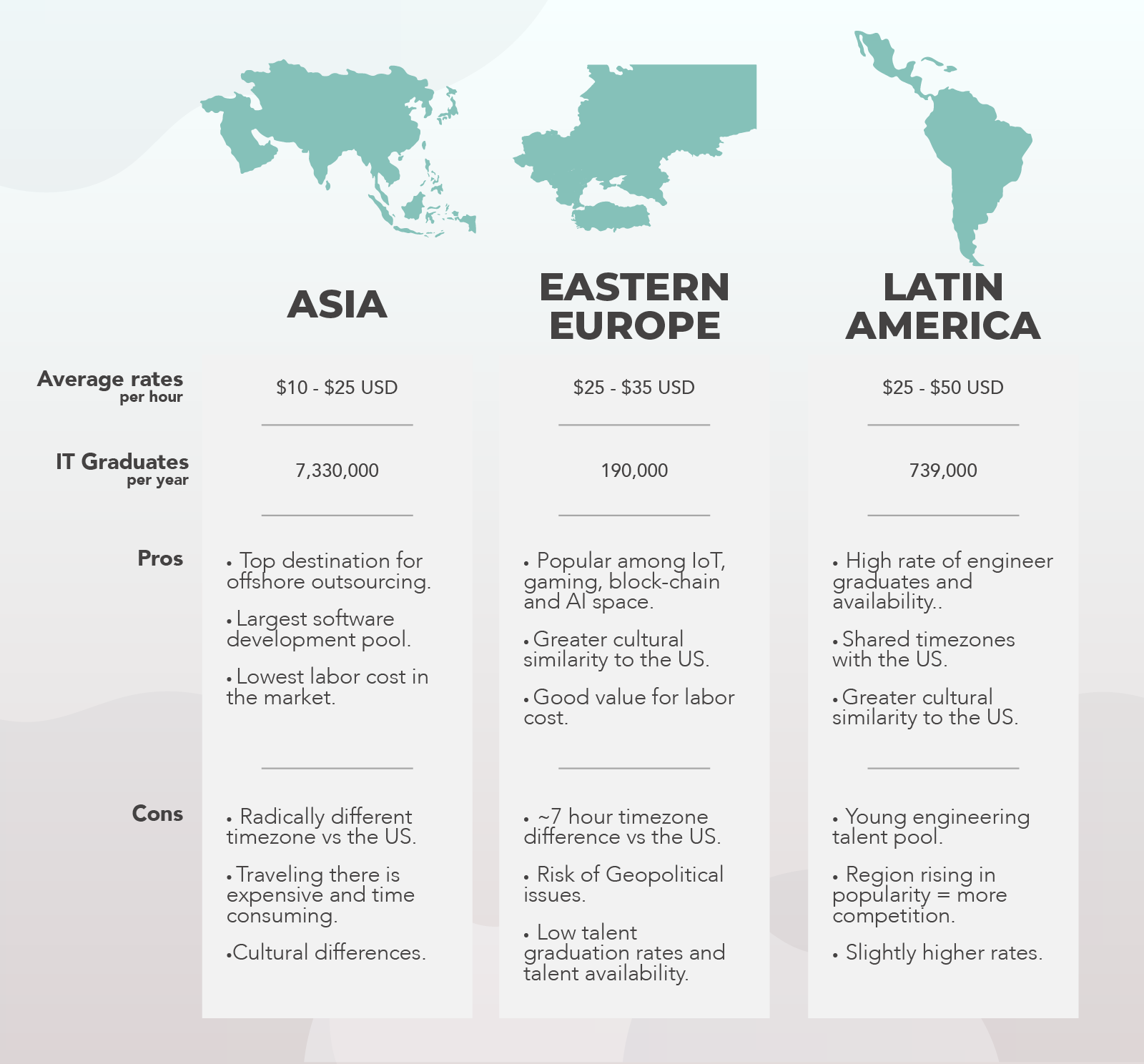 | | | | |
| --- | --- | --- | --- |
| Region | Hourly Rate | STEM Graduates/per year | Top Countries |
| Asia | $10 – $25 | 7,330,000 | China and India |
| Eastern Europe | $25 – $35 | 190,000 | Ukraine and Romania |
| Latin America | $25 – $50 | 739,000 | Mexico and Brazil |
We can see above why Asian countries are hard to ignore when looking for an offshore destination. However, North American technology companies that prefer quality over quantity have found a better ally in Latin America to expand their technology teams or outsource IT services.
Latin America's Top 5 IT Outsourcing Regions
Unlike Asian or European countries, Latin American countries are the closest geographically to US companies, which makes Mexico, Costa Rica, and Colombia very convenient outsourcing destinations.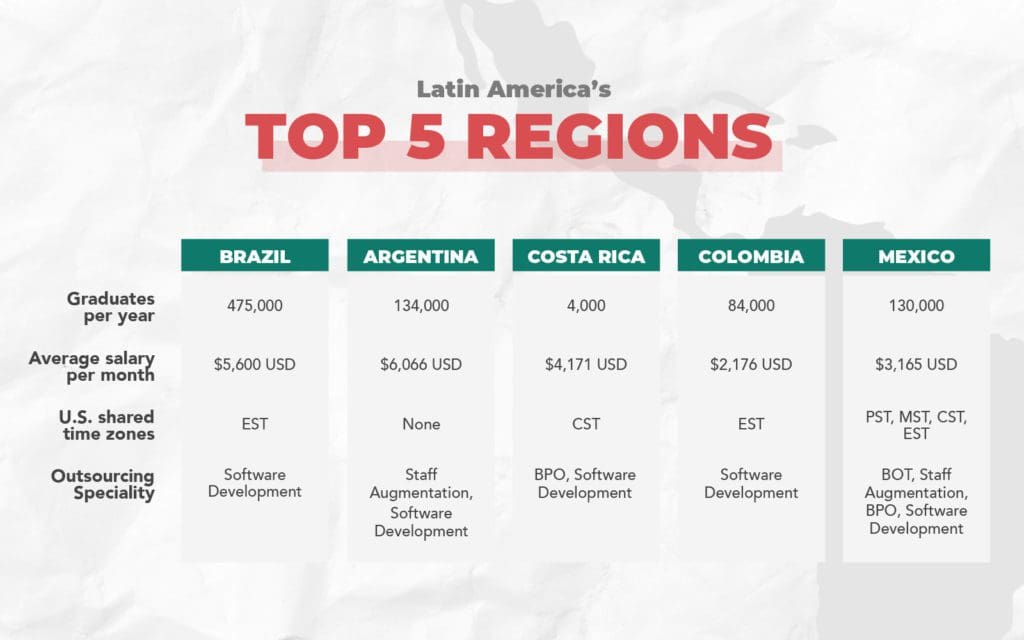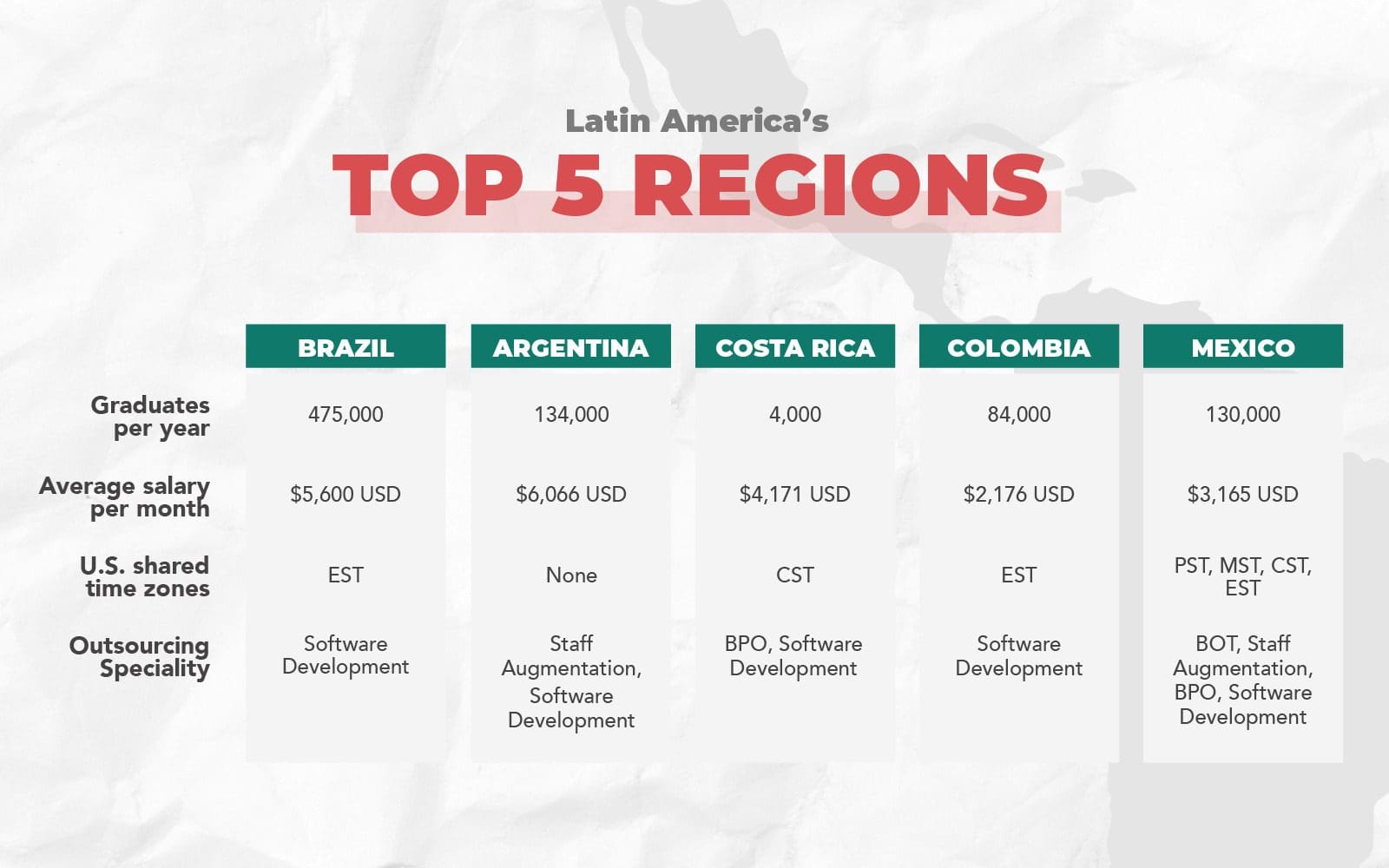 | | | | | |
| --- | --- | --- | --- | --- |
| Country | Monthly Salary | STEM Graduates/per year | US Shares Time Zones | Outsourcing Speciality |
| Brazil | $5,600 | 475,000 | EST | Software Development |
| Argentina | $6,066 | 134,000 | None | Staff Augmentation, Software Development |
| Costa Rica | $4,171 | 4,000 | CST | BPO, Software Development |
| Colombia | $2,176 | 84,000 | EST | Software Development |
| Mexico | $3,165 | 130,000 | PST, MST, CST, EST | BPO, Staff Augmentation, Software Development, Build-Operate-Transfer |
Why is Mexico the best choice for collaborative IT outsourcing?
In the last ten years, Mexico has become a destination for IT outsourcing and nearshoring. Companies, both large and small, have established entire technology teams or hire remote engineering talent in the region to support their internal operations.
Names like Amazon, Facebook, Intel, Uber, LinkedIn, Google, IBM, or Microsoft have become more and more frequent in the resumes of software developers in the leading technological cities of Mexico.
One of Mexico's significant advantages over other outsourcing competitors is that it shares a border with the United States, which gives it a high level of linguistic and cultural competence within its group of technological talents.
However, there are many other benefits to choosing Mexico as a collaborative IT outsourcing destination:
Cost Savings

Similar Time Zones

Growing and Specialized Talent Pool

Intellectual Property (IP) Laws

Tech Infrastructure
Mexico's Key Numbers:
Amount of graduates per year: 130,00

Most common software developers:

Front-end developers, Full-stack developers

Average salary:

$3,165/month

($20 – $30/hour)

Top companies with an outsourcing presence:

Honeywell, Cisco, Salesforce

Outsourcing specialty:

Build Operate Transfer, Staff Augmentation, BPO, Software Development

Shared U.S. time zones: PST, MST, CST, EST

Top tech cities:

Mexico City, Guadalajara, Monterrey, Tijuana, Yucatàn Peninsula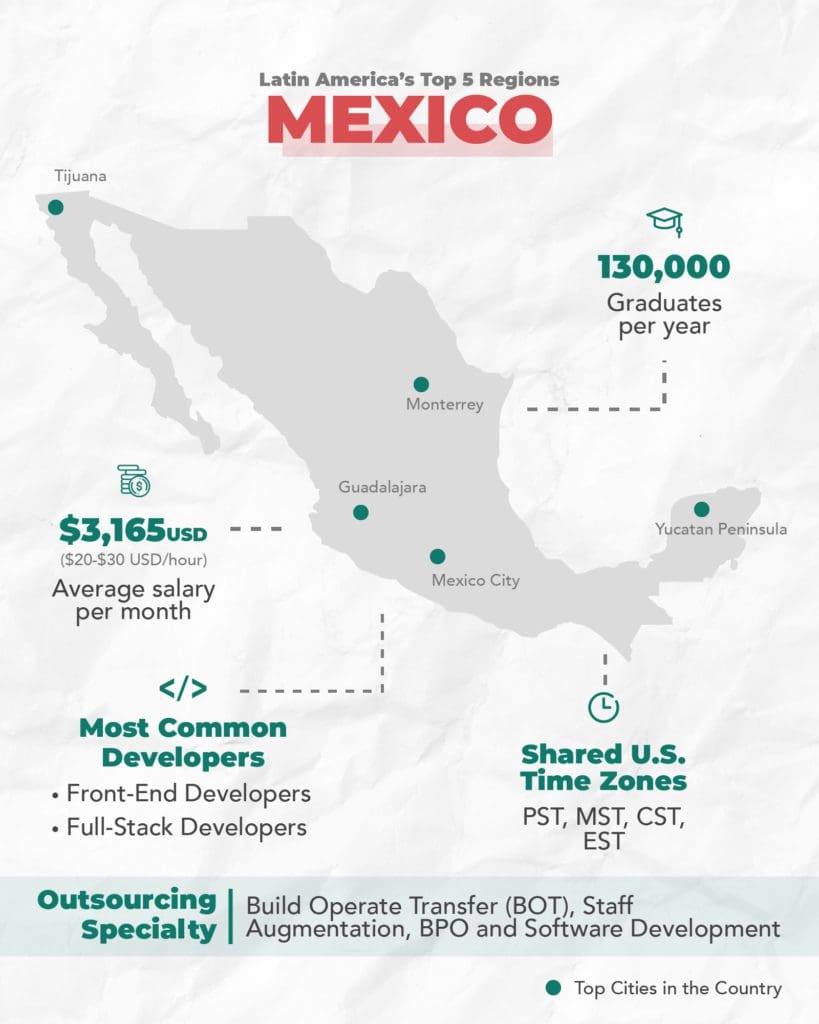 Top cities for collaborative IT outsourcing and nearshoring in Mexico
Mexico has invested in more than 20 technology hubs in Queretaro, Chihuahua, Aguascalientes, Coahuila, the State of Mexico, Guadalajara, Durango, and Jalisco, to name a few. These tech hubs have attracted foreign investment and transferred IT skills across the country.
However, five cities with a strong muscle in the IT industry have become the primary providers of talent for international companies.
Mexico City – The Gateway to Latin America's Engineers
Mexico City is the epicenter of the country's software industry, with more than 500,000 software developers and engineers. As a result, Tech giants like Apple, Google, Microsoft, Facebook, and HP began building offices in the city.
Key numbers:
Average Salary: $22 – $34 dollars per hour

Talent Pool: 500,000 available + 45,000 new tech graduates every year.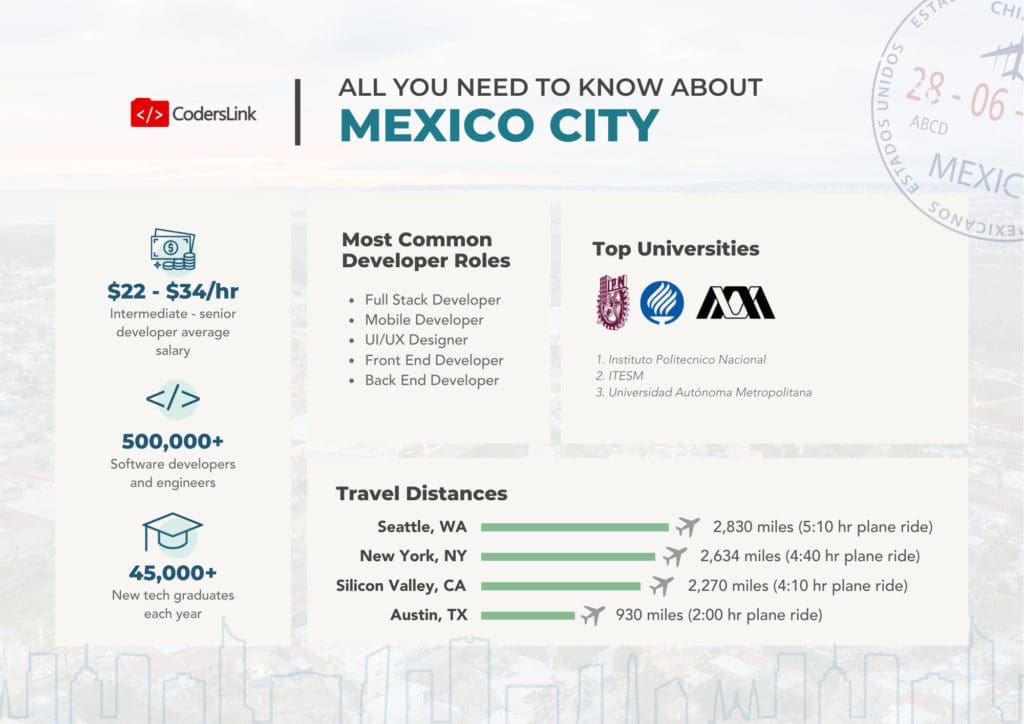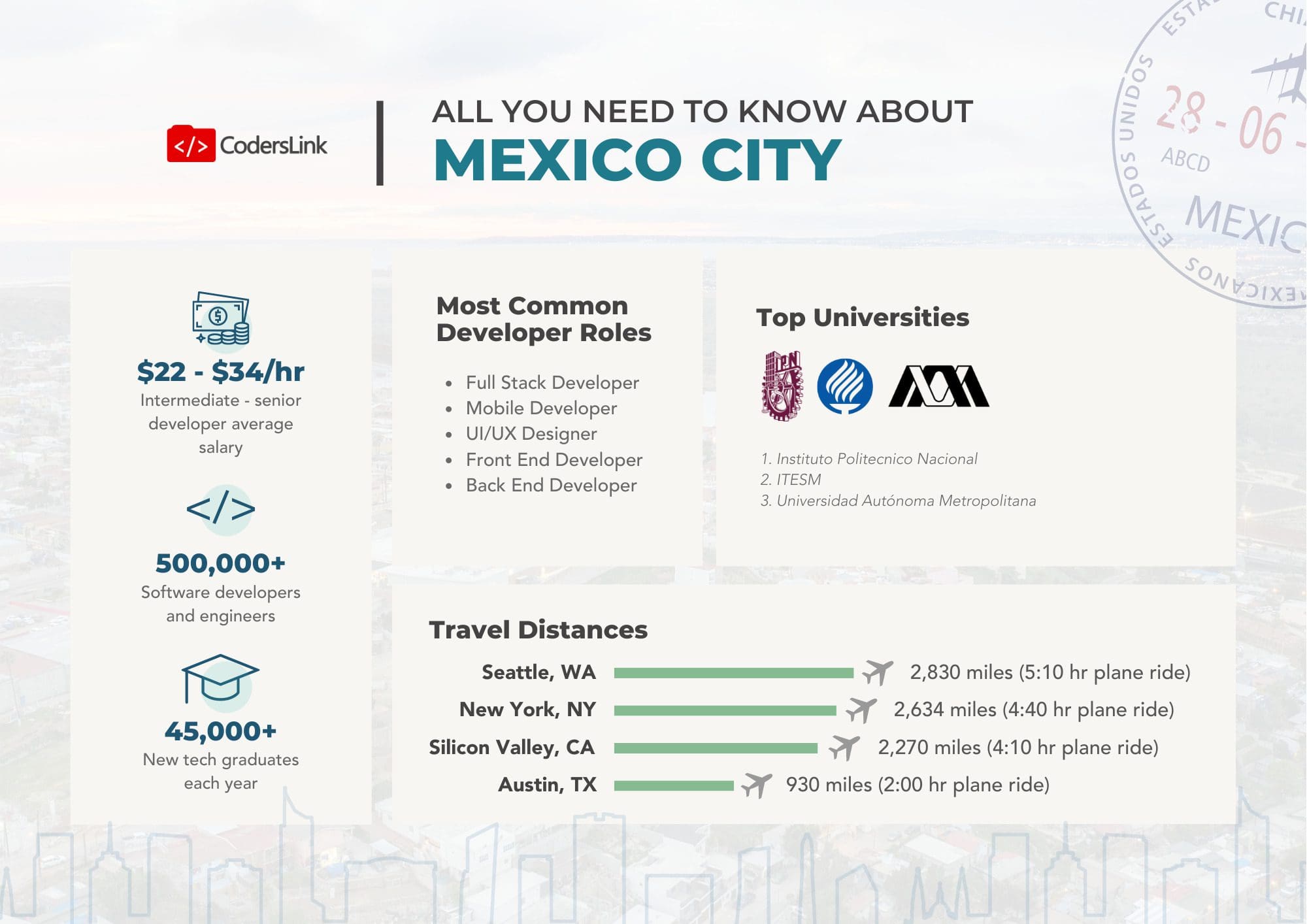 Monterrey – Silicon Valley's newest secret
Monterrey accounts for over 10% of the country's GDP and 11% of its exports, making it the fastest growing and one of the most modern cities in Mexico. It's also home of the Tecnologico de Monterrey – one of the best universities in Latin America. Thousands of skilled software engineers graduate through it every year.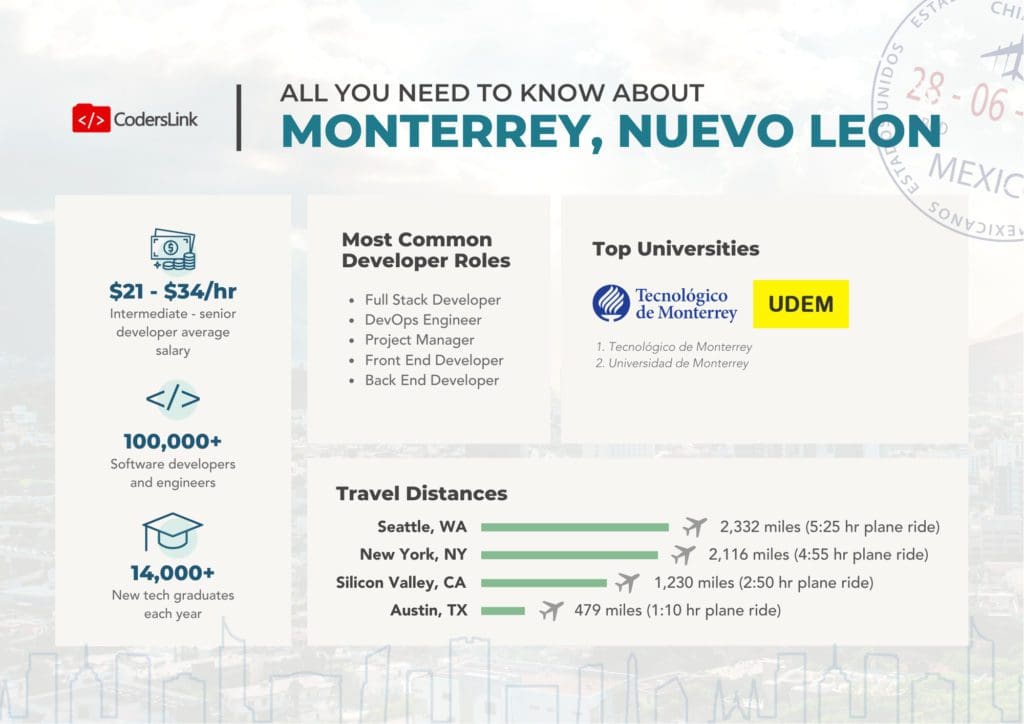 Key numbers:
Average Salary: $21 – $34 dollars per hour

Talent Pool: 100,000 available + 14,000 new tech graduates every year.
Tijuana – California's Backyard
Sixty-five major American companies, including Uber, Honeywell, and Youtube, have offices in Tijuana. Twenty miles from San Diego, its location is one of Tijuana's many incredible benefits to tech companies looking to build a second office. However, location isn't the only reason; Tijuana produces skilled and culturally fit talent for U.S. companies at more affordable rates.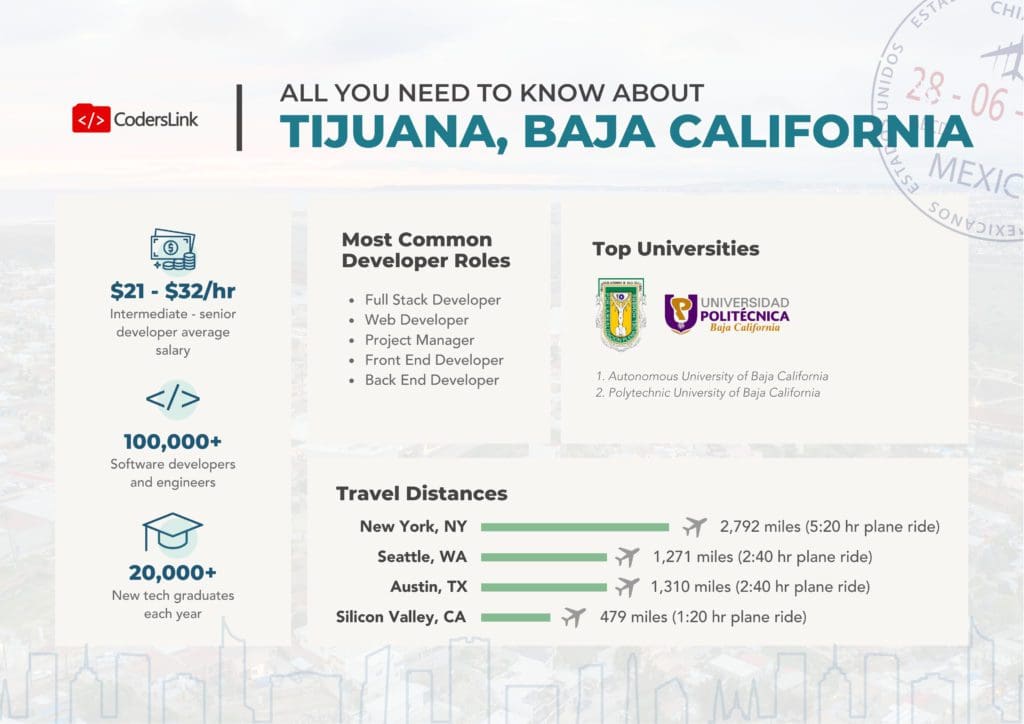 Key numbers:
Average Salary: $21 – $32 dollars per hour

Talent Pool: 100,000 available + 20,000 new tech graduates every year.
Yucatan – The Rising Tech Ecosystem
Once home to the Mayans, today is one of the fastest-growing tech hubs. The Yucatan government has consciously invested in making it a competitive destination for national and international IT investment.
It is worth mentioning that senior-level engineers prefer the tropical and beach lifestyle that this destination can offer them over a city life, which is why Yucatan receives a large migration of skilled IT professionals every year.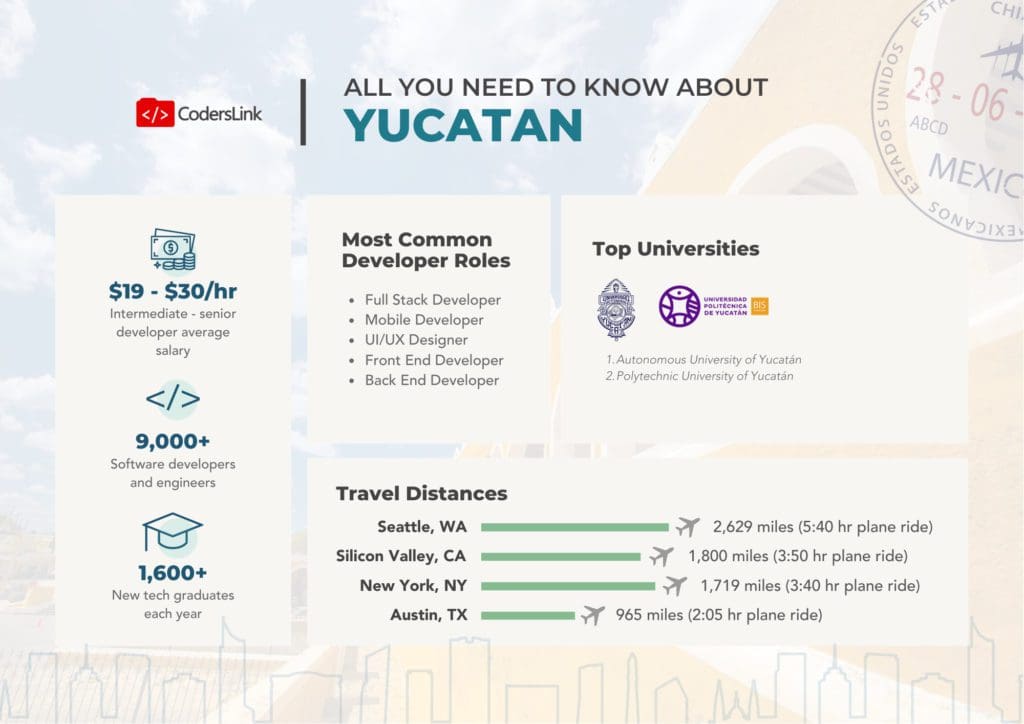 Key numbers:
Average Salary: $19 – $30 dollars per hour

Talent Pool: 9,000 available + 1,600 new tech graduates every year.
Guadalajara – Digital Creative City
Ever since Guadalajara went viral for being considered the Mexican Silicon Valley, both the Mexican Government and MIT invested in creating a city with infrastructure and technological talent capable of supporting multinational companies.
Since then, more than 600 technology-focused companies have established their bases of operations in Guadalajara, such as IBM, Oracle, Intel, HP, Dell, and Gamesoft.
Key numbers:
Average Salary: $22 – $35 dollars per hour

Talent Pool: 115,000 available + 10,000 new tech graduates every year.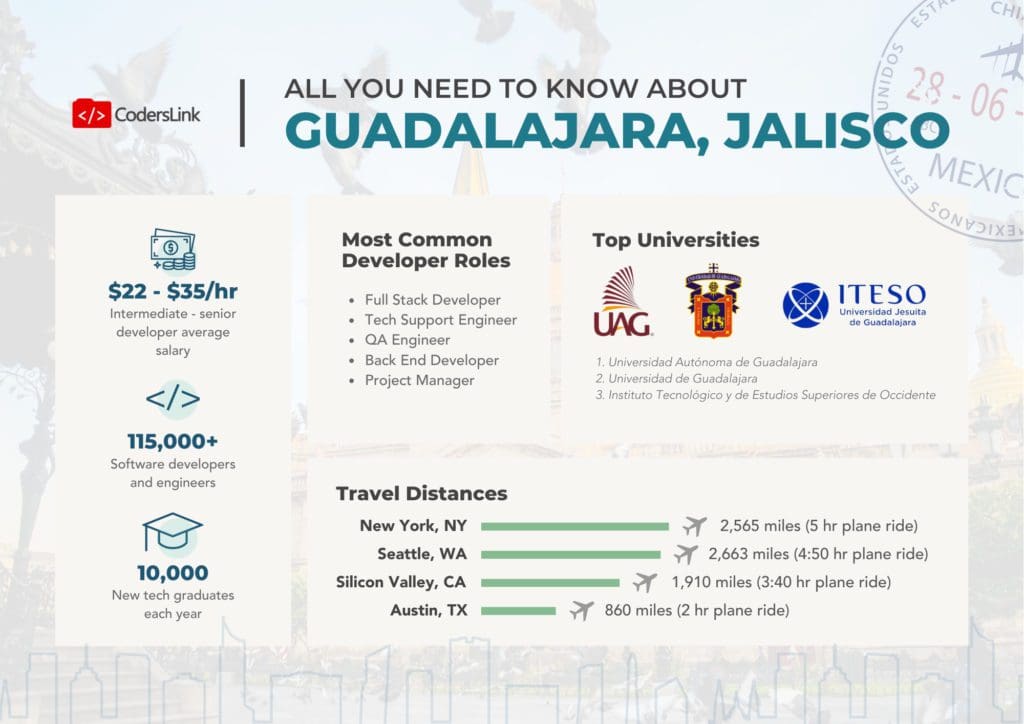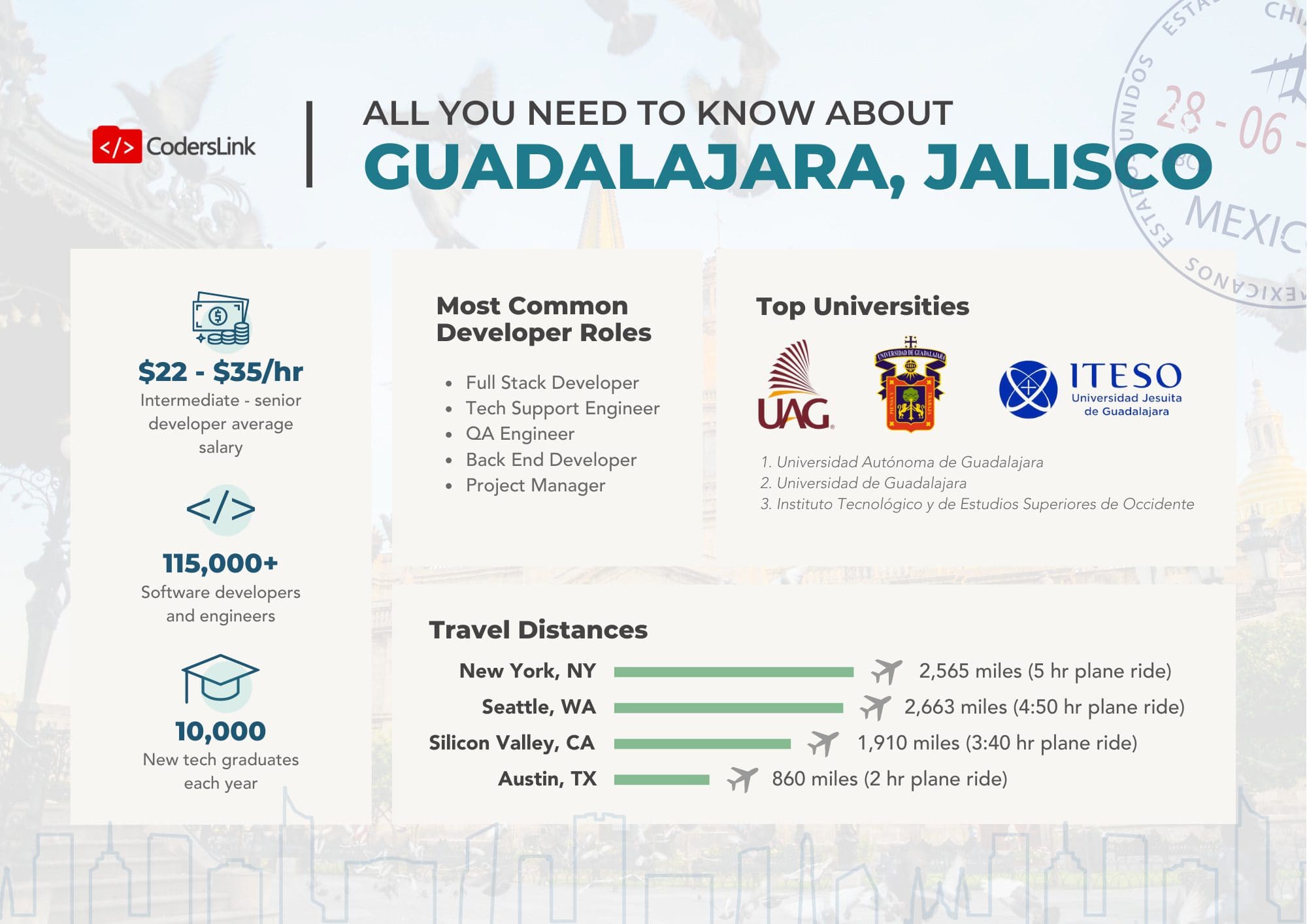 Are you interested in building your software team in Mexico?
There are three ways you can do it:
Software Outsourcing

– For companies with development needs but not a tech focus, outsourcing part or all of their IT and Development needs to a Latin American-based company is the best choice.

Staff Augmentation

– It's an excellent option for growing companies who want to find quality talent at a much lower cost. These companies can hire employees to work remotely while integrating them into the organization's core operations.

BOT (Build, Operate, Transfer)

– Companies that want to build a new office or an offshore team but do not have the bandwidth or the necessary know-how to do it without risk. The BOT model allows companies to partner with a local agency to hire and operate the staff until it reaches a sustainable point to be transferred entirely to the company.
Your business can maintain a competitive advantage while working at scale without increasing costs by outsourcing outside the United States. Whichever option you choose to outsource in Latin America, CodersLink can help.