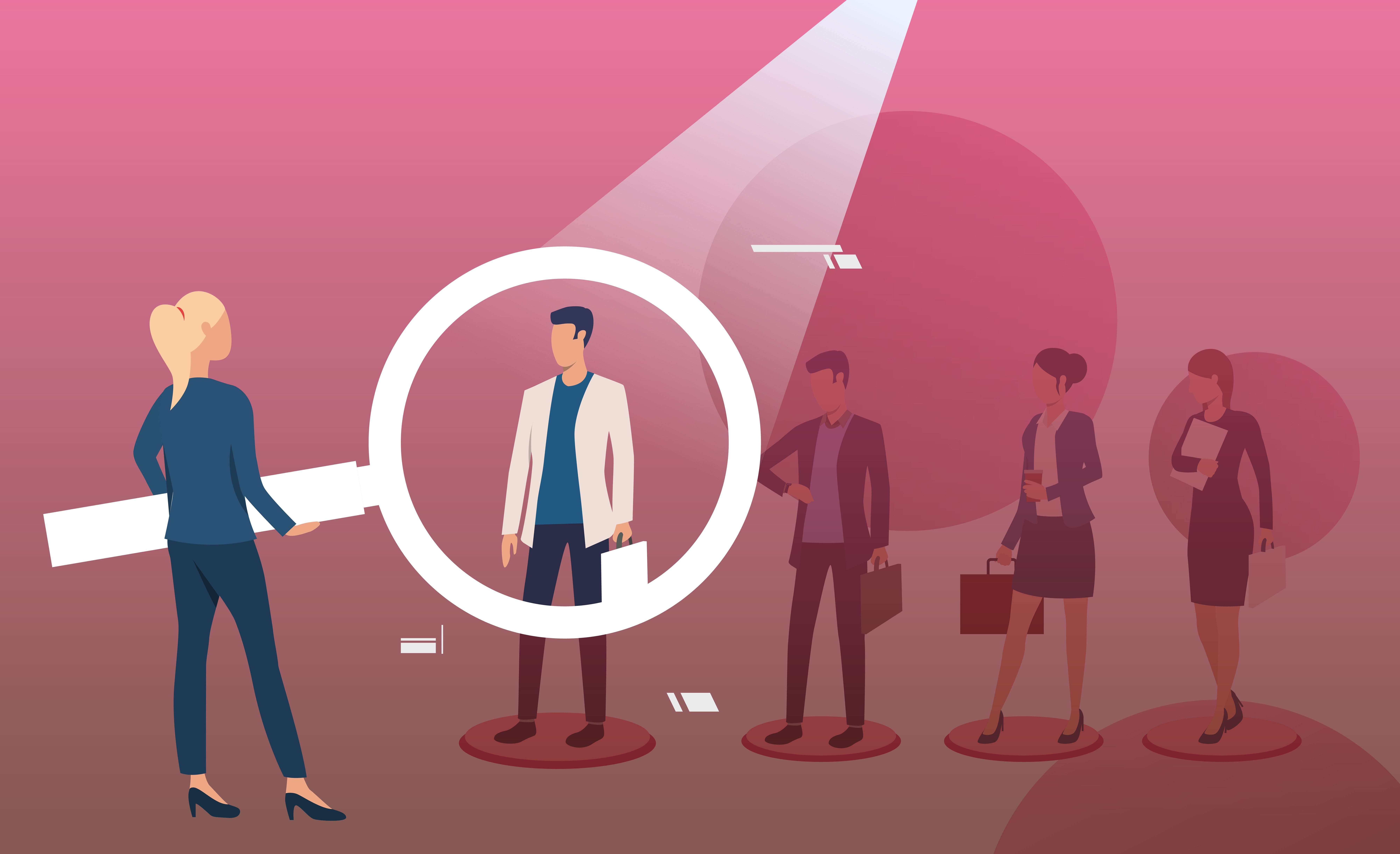 Finding new talent in the tech industry is extremely difficult. HR managers around the globe have tried different recruitment methods to find the best possible candidate for their companies. The employee is a vital part of the company and recruiting new employees who will enhance the business. Eventually, there have been two types of recruitment methods employed by HR managers all over the US.
Ready to hire top tech talent?
Traditional Recruitment Methods: 
he conventional recruitment method is a term that is used to define the process when candidates apply for jobs using plain paper applications and resumes. Employers still utilize it all over the world. The familiarity of conventional recruitment methods such as newspaper advertisements and internal hiring makes these till popular choices among many hiring experts today. Here are some of the traditional recruitment methods:
Newspaper Advertisements: The most excellent way to boost the word about new job posts is through newspaper advertisements. This is the simplest type of recruitment and the most efficient method of all.
Local Recruitment Office Postings: Businesses or companies have employed recruitment agencies. They are putting up their job in a local recruitment office and will get an extensive range of people looking for a job. Through regional recruitment offices, businesses or companies will find all types of candidates.
Temporary Recruitment Agencies: Temporary recruitment agencies are the most used recruitment method. They can search and shortlist potential candidates for your business or company.
Internal Hiring: Internal hiring is another best way of recruitment, which has been tremendously successful over the past several years. Companies or businesses promote potential employees who are already part of the business. Internal hiring is the safest method because you know all about your employees.
Modern Recruitment Methods: 
There is a significant rise in technology over the past 20 years. Modern-day recruitment methods grow in influence and make a difference in landing right candidates for organizations all over the United States.
If you do not use social media as part of your online recruitment efforts, it's time to get started. It is general to use social media services when searching for potential candidates for your business or company. Social media is the most inexpensive way to form a pool of potential candidates within a short time. Particularly 85% of potential candidates use social media channels when they are searching for a job.
Social media sites such as LinkedIn, Facebook have communities where potential candidates submit their resume and qualifications hoping to land a job. With the current Covid-19 pandemic, HR managers are preferably recruiting remote employees. Here is the ultimate guide to build and scale a remote tech team in Mexico.  
Tips to improve tech hiring: 
Tech recruitment has become very difficult as recruiters all over the world are struggling to find skilled candidates. To assist you in getting a grip on what to watch out for in 2020, we have put a list of top 6 tips to improve your sourcing efforts in tech recruitment.
The candidate tracking system(CTS) is the essential element of an effective recruitment strategy. It allows you to track candidates throughout the complete recruitment process. It can help you identify where most of your qualified candidates are coming from, be it your social media, job boards, or career website. This data helps HR managers determine which ways are the most successful and valuable additional resources. If you are not using the candidate tracking system, we would suggest you use this tool immediately.
Contain Must-haves in Your Job Descriptions:
According to the research, women are less expected to apply to a job where they do not meet 100% of the criteria while men will apply for jobs for which they match only 65% of the requirements. Containing unnecessary details such as certificates or diplomas, you are willing to train for, or unimportant responsibilities will narrow your talent pool.
As a result, you might need to extend your candidate search, which costs you extra time resources. With a narrow candidate pool, you will struggle to find and hire a varied and comprehensive tea that reflect your community and the clients you serve. Make your job descriptions tighter to improve the breadth and quality of applications.
Prioritize Candidate Communication:
Always keep in contact with candidates throughout the complete recruitment process. Potential candidates are probably fielding many offers or are at least on the radar of other companies. If potential candidates have not heard from you, they are not going to wait. Stay on top of the list with candidates to keep them as a practical choice.
Communicate tech information in your job ads and company profiles
When considering a job move, developers worldwide need to know which technologies they would be working with. Ensure to communicate this as early as possible to attract their attention. Here is an example of a YouGov job ad.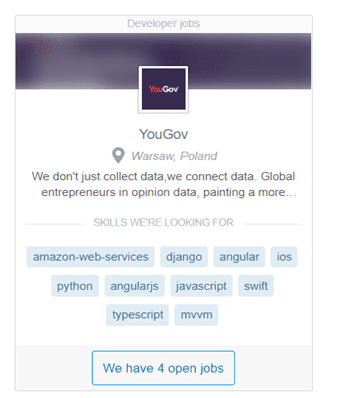 When a developer clicks the ad and can see their Stack Overflow company profile showing more information about their tech stack: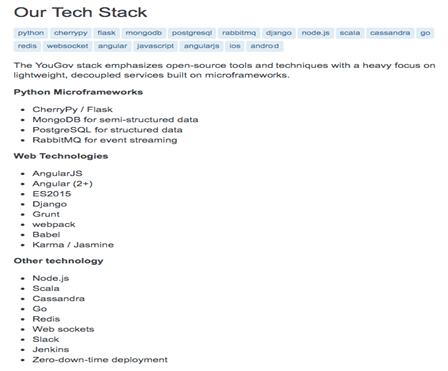 Keep your skill-testing short and relevant: 
Tech recruitment has been the subject of passionate debate, with developers complaining about the unproductive screening and interview process based on quizzes,  and random questions. Businesses and companies continue to use this practice, and Developers continue to think of it as an objectionable but essential process like a hazing ritual at a frat. 
Almost 73% of tech candidates complete a coding test sent to them for tech recruiting purposes regardless of their level of development.
Meet potential candidates where they are:
Determining where to find potential candidates is a major decision. If you are searching for potential candidates early in their careers, you might discover achievement with a social media strategy. Conversely, experienced candidates are expected to be available via traditional job boards. If you are not using the right recruitment tools, you will waste time and resources.  
The main thing is to figure out where these potential job seekers are before launching your hiring strategy. Always focus on the right recruitment tools that will enhance the quality of candidates. 
Send the coding test requests at the beginning of the week:
Developers typically have different projects and tasks lined up. When the week's work ends, Developers are less active in private houses. This means the weekend is a well-earned break for many developers who take this time to recharge and work on their projects.
Similar to open source assistance, sitting a coding test is less expected to happen over the weekend. Potential candidates wait, on average, 2.8 days to complete a coding test. Coding tests sent on Thursday tend to get the fastest response, and those posted on Wednesday naturally take more time to be completed.
Update your interview process:
Your HR managers are fully equipped to find, inspect, and interview candidates, but what about your HR managers? You will need the employees who will work closely with potential candidates to conduct interviews. Employees should be familiar with legal terms and the right interview guidelines to understand the best practices for reviewing experience.
Before your search, talk with HR managers to create the candidate persona, like what are the responsibilities assigned to the role? This persona will ensure that you are continually asking the right questions.
Update your interview process:
Take your talent search on the way to meet potential candidates in your markets. The industry event is a great technique to connect with potential employees. It also provides you the opportunity to network with other like-minded companies or businesses and form long-lasting relationships. Industry events allow you to skip the candidate search by offering you insights on the candidate's personality, long-term career objectives, and values through face-to-face conversations. 
Conclusion: 
Tech recruitment is challenging to navigate, and it does not seem like this is going to change anytime soon. To get a head start, ensure to follow market leaders and publicize yourself with market benchmarks about what your peers are doing.