IT companies across the globe are on the hunt for talented resources. The human resource shortage has been exacerbated by the relentless growth of some of the world's largest technology companies. That is making it extremely difficult for other companies and startups to attract the talent that they need.
These market dynamics have pushed companies to look elsewhere, often in locations that they may not have considered previously. More and more US-based companies are now finding success with engineering talent that's based overseas.
What's more, the COVID-19 pandemic exacerbated this trend with the rise of remote work and with the rise of the digital transformation within companies. Both of these contributing to an increased interest in software engineering talent. 
Yucatán is one of Mexico's fastest-growing tech hubs
Located in southeastern Mexico, Yucatan is known for its ancient history and archeological sites, as well as its rich colonial history and cultural importance. It is home to Chichen Itza, once home to the Mayans, and one of the seven wonders of the world. 
When it comes to its tech ecosystem, the Yucatan government has consciously invested in making it a competitive destination for national and international IT investment. Mérida, the state capital of Yucatán, hosts a thriving technological scene with an expanding network of incubators and accelerators. 70% of the state's entrepreneurial activity is concentrated in Mérida.
National and international tech companies are landing in Yucatán nowadays. They're attracted by its geographical accessibility, advancing business environment, and abundance of talented resources. It also doesn't hurt that the average salaries in Yucatán are at the lower end of Mexico's IT wage spectrum.
Yucatán's startup ecosystem is unlike any other in Mexico
Yucatán's ecosystem thrives due to the availability of talented resources. Of the 1,600+ IT students graduating in the southeast region of Mexico, 50% come through the Autonomous University of Yucatán. 
It's ranked among the Top 100 universities in Latin America. The state is also host to the Polytechnic University of Yucatán (UPY). It's the first university that specializes in disruptive technologies that are in high demand. It also has a strategic alliance with Texas A&M University.
As Yucatán is a major tourist destination, the workforce already possesses a high level of competency in English and familiarization with the North American culture, making them well-equipped to work with international teams. It ranks fourth nationally in English language according to the EF English proficiency index. 
The Yucatán IT industry also has a bigger specialized talent pool than Queretaro which is one of the frontrunners of Mexico's technological landscape with some of the highest wages on the national spectrum. 
As mentioned, the government has made a conscious effort to make Yucatan an attractive destination for national and international tech companies. It created financial and support programs that include reduction in taxes, training programs, recruitment support, guidance on permits, funding advisory, and local liaison support. 
What's more, when it comes to US companies looking to expand to Yucatan, the Government of Yucatan in collaboration with the U.S. International Development Finance Corporation (DFC) has a fund that supports companies with a financing pool of up to $350 million dollars, as well as political risk insurance coverage for up to the same amount. 
Yucatan is serious about solidifying itself as a tech ecosystem, and companies are noticing. 
The most common developer roles in Yucatán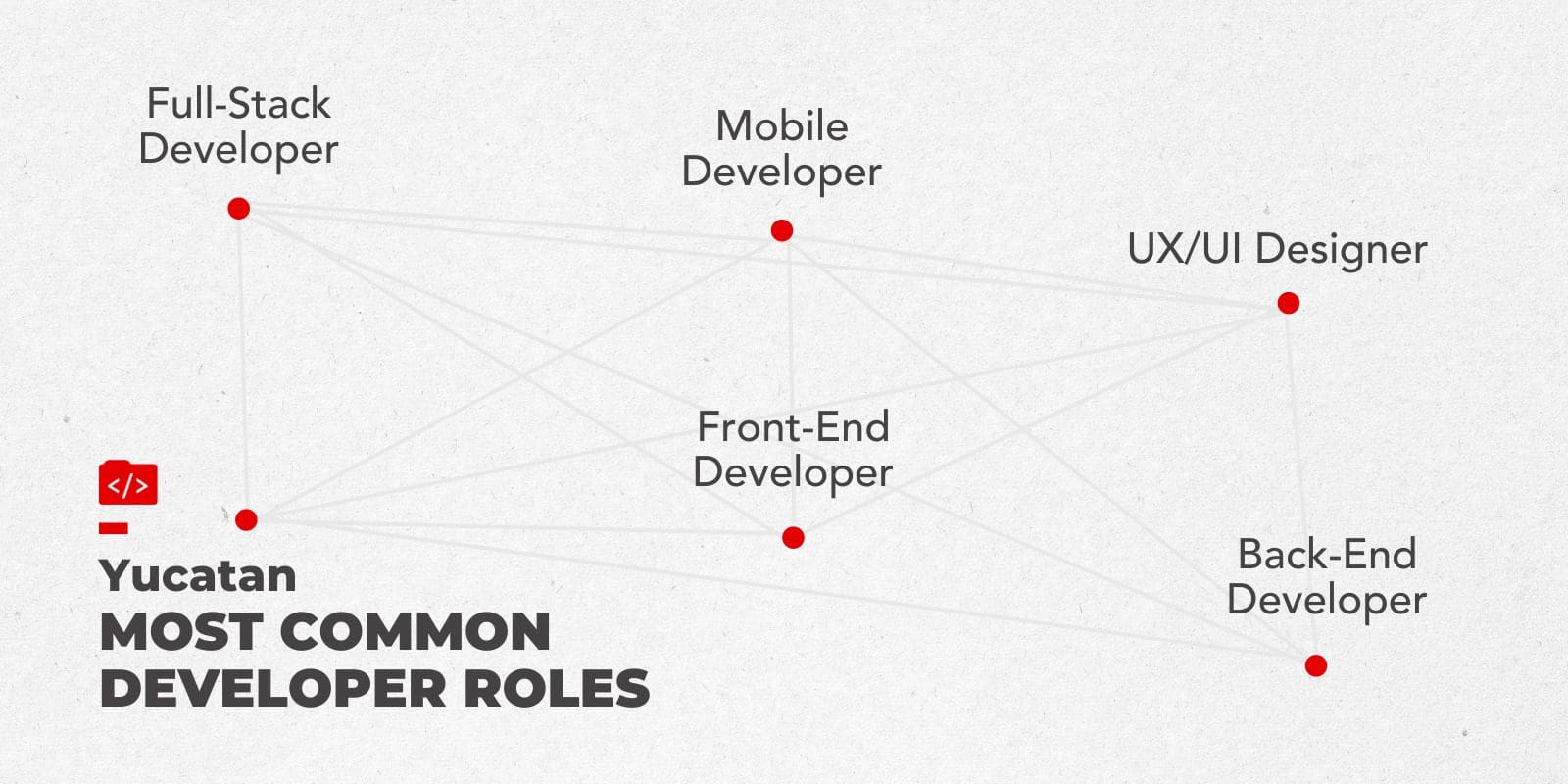 Average software engineer salary in Yucatán vs the US
Affordability is what's driving the decision for most companies when they think about landing in Yucatán. That's because the average software engineer salary in Yucatán can be over 65% less than the US national average. This is not due to a lack of skill or the perception of lower quality work.
Among the main technological regions across the globe, Yucatan has one of the lowest costs of living. That coupled with an incomparable quality of life makes the region a very compelling option for international and US companies in Yucatán.
Average Salary for:
Full Stack Developer: $3,156/mo ($8,250/mo in U.S)
UX/UI Designer: $2,669/mo ($7,106/mo in U.S)
These are net average figures that don't include benefits, bonuses, taxes or any other compensations. Download our Tech Salaries Report 2021 that compiles data from over 15,000 developers in Mexico for more insights. 
Big tech companies in Yucatán 
There are quite a few major tech companies in the region. They include the likes of Geolytics, Makrwatch, Nearshore Technology, 4th Source, BlueOcean Technologies and more landing every month. These companies are working on a variety of products and services covering eCommerce, cybersecurity, software development, technical support and personalized products.
Is Yucatán safe?
Yucatán is one of the safest regions in Mexico. That's partly due to the fact that it's such a major tourist destination. As long as you exercise a level of caution that you would in any major city in the world, you'll be fine.
CodersLink is your connection to Yucatán
We work with startups and major companies looking to leverage the region's immense potential by providing them with access to over 16,000 pre-vetted candidates. Our clients can save up to $1 million in labor costs during their first year by landing in Yucatan. Hop on a call with one of our friendly tech consultants today and we'll be happy to work out a plan for you.