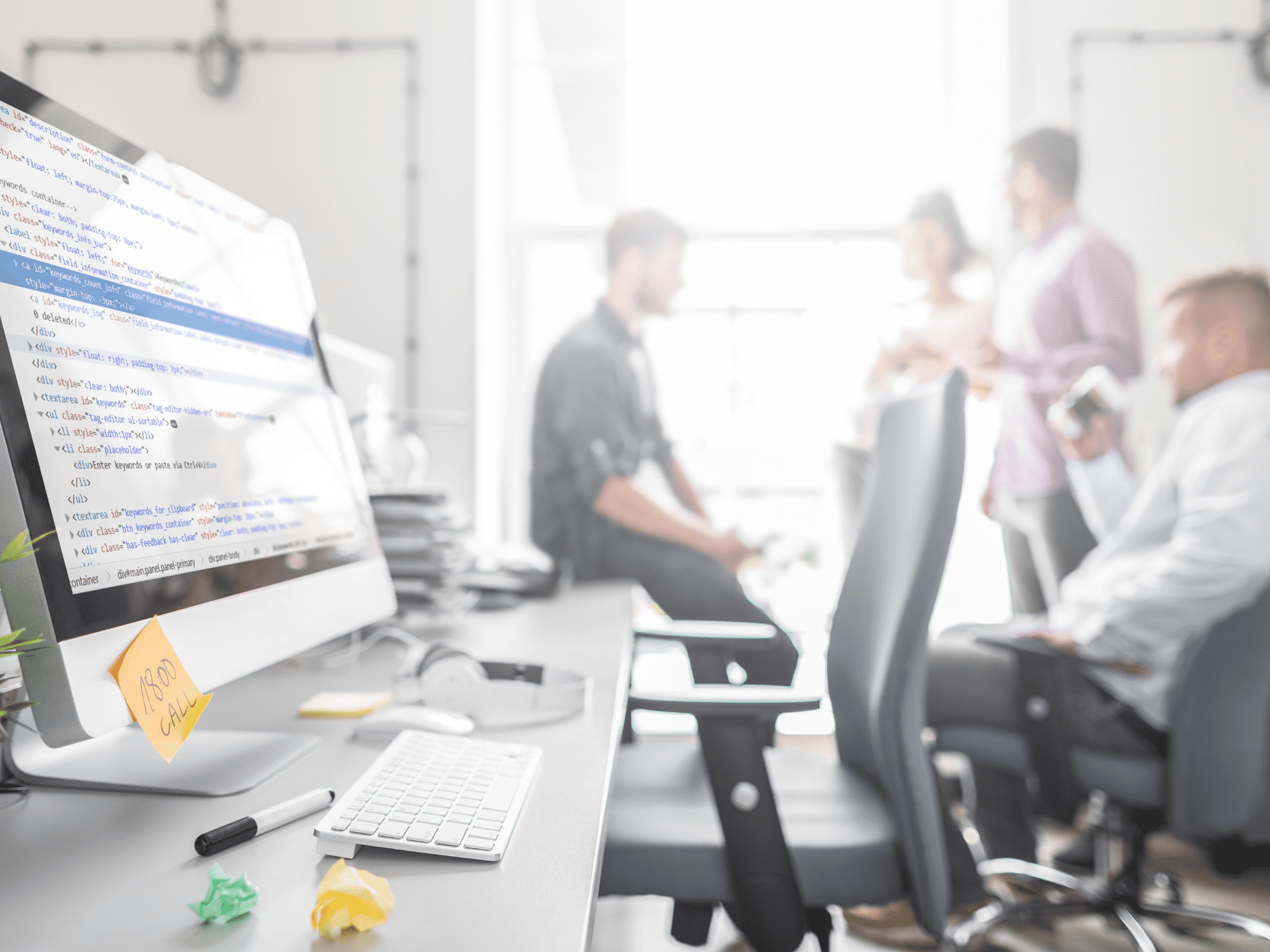 Have you started thinking about outsourcing you development, IT, and engineering needs for your company or business?
When it comes to outsourcing, we understand that it can feel risky. There are many risks to IT outsourcing that you need to be aware of before you move forward with hiring externally. However, these obstacles can be overcome and do not need to deter you from outsourcing all together.
When you outsource correctly, your business expands, your revenue grows, and you are able to successfully fulfill your projects, goals, and missions with more ease and efficiency. Outsourcing is the missing link that allows you to take the leap of growth into bigger markets, more clients, and larger projects. 
As we wrote in a previous article, "Outsourcing is the business practice of hiring a third party individual or organization outside of your company to perform services and handle certain business activities. Outsourcing is usually undertaken as a cost-cutting measure that allows companies of all sizes to grow as and when they need it without significant risk or investment."
(Read this article to learn more about outsourcing and if it's right for you.)
Outsourcing is a common solution for business growth and new opportunities. Outsourcing simply means finding the right "source" to fill your need, externally. 
Trusting in who you hire, finding the right fit for your team, establishing pricing transparency, expecting great quality of work, and achieving uncapped growth are all essential when it comes to outsourcing, and it's all possible when you work with CodersLink. 
At CodersLink, we are able to lessen much of the IT outsourcing risk through our services, processes, and experienced expertise. 
In this article, we will bring up some common IT outsourcing challenges and how we at CodersLink help you overcome them.
Ready to hire top tech talent?
1. Trusting in your outsourced team
Outsourcing can feel like a risk when it comes to trusting your team. When you outsource work, you're potentially hiring someone you don't know, or at least don't know well. And for the tight knit, well- established teams, that can present quite a bit of unwelcome uncertainty. 
Just because you're on the other side of the world, though, doesn't mean you can't trust in who is doing work for you. At CodersLink we pre-vet potential people for your project by tapping into our talented network and community of IT professionals. Talk about perks! We have an entire collective of people ready to fulfill your unique needs. 
CodersLink only sources talent to committed partners and businesses because we want to trust in you just as much as we want you to trust in us. And, we've found that the best way to ensure a healthy working relationship is through long term commitment. 
With CodersLink, trusting an outsourced team is easy because we are continuously learning and bettering our systems, processes, and skills so that we can better connect your teams and contribute to your goals and growth. 
2. Finding the right fit for your needs

Finding the right fit for your team isn't always easy. And when it comes to outsourcing, it can feel like an added challenge to find the right person because they may be operating in a  different time zone, country, or language. 
"The key to outsourcing success is finding a vendor that can understand and solve your specific business problems."
While that sounds easy enough, just knowing who you want to hire doesn't always find you your match.
That's where CodersLink comes in. Through remote staffing, direct placements and matching, we are able to make sure that you and your team get the right person to fulfill your needs.  
Our superior vetting and matching process not only helps you find the right fit, but it helps you to hire faster so your company is not left at risk with gaping holes to fill. 
When you work with CodersLink, we connect you with high quality candidates that we know will do a superb job at meeting your needs. That way you're able to spend more time getting to know potential new candidates and less time looking at resumes.
Through our tailored matching process, CodersLink reduces the risk of hiring the wrong people. We find the person, team or company that matches the specific and unique skills your business or project needs, conduct a technical interview, and review their professional experience. All before you ever even meet them!
We also take into account cultural aspects to make sure behavioral norms, work hours, and languages all align to fit your company or project. 
Our detailed process helps to make outsourcing quick, easy, and painless for you and keeps your retention rates high and turnover low.

3. Pricing the project right

A problem many face when it comes to outsourcing is determining and finding the right pricing and costs that will be both cost efficient and effective. If you're choosing to outsource, you're likely doing it to cut costs to save time and money. This means, you need to take into account all outsourcing costs to make sure it fits with your goals and expectations. 
It can be hard to keep track of outsourcing costs yourself. And if you don't keep detailed track, you're at risk for spending more on outsourcing than you had originally planned and budgeted for. Not to mention the currency conversion confusion that strikes as you're planning your project. 
At CodersLink, we offer transparent and clear pricing and upfront cost breakdowns all in our first meeting together. We will then source the right person or team that fits with the pricing we've agreed on and make sure everyone is on budget and on plan. 
With CodersLink's expert recruiting, marketing and talent acquisition team, we are the experts at attracting quality IT professionals. And we only offer long-term contracts to the candidates, ensuring that any engagement is taken seriously and not from a "freelancer" perspective. 
We offer highly competitive rates and above average benefits in the regions we work, allowing us to draw in top talent from a large pool of highly-skilled and "ready to work" IT professionals. 
Our rates are fifty percent lower than the average U.S. costs and fall right on par with Eastern European rates, all while being in the same time zone and closer cultural affinity. 
Make sure to use our Outsourcing Cost Calculator to find out exactly how much your investment could get you when building a remote tech team. 
If you're considering outsourcing for your business or project, make sure to bring CodersLink in so you can execute efficiently and effectively maximize your profit. 
4. Quality of Work

Quality of work can be a major topic of concern when it comes to outsourcing. When thinking of using a third party to contribute to your project or company, you might think: "Are they going to do it as well as we could do it internally?" 
The answer is typically yes. Don't let the lower cost trick you into thinking that the work delivered will be lower quality. At CodersLink, we make sure that the work done through an outsourced party is on par with both industry standards and your expectations. 
At CodersLink, we work with you to onboard the outsourced person or party and we will stay onboard through the completion of the project. Our candidate success managers stay in touch to keep a pulse on how the candidate is delivering. That way, the project stays on course and your expectations stay met. 
And, because we are committed to growth, we also offer the hired professional access to learning tools that allow for continued development and on-the-job success. 
5. Uncapped growth

Growing your business is top priority and typically choosing to outsource is a direct contribution to increasing your bottom line. When you're committed to growth, you might be wary of potential roadblocks on your path to success. Outsourcing can seem like an uncontrollable variable that you're adding to your business, but it doesn't have to.
At CodersLink, outsourcing equals growth. With direct access to the Latin American region, specifically places like Mexico, Costa Rica and Colombia, we are able to offer your business outsourced partnerships that will contribute to your revenue on a global scale, and cut internal costs for your business so that you can continue growing, uncapped. 
As your company grows, we grow with you. There is much room for growth with our outsourcing services. You can start with a single-person hire, turn that into hiring a small team, and then grow that team into its own operation and even develop that unit into a complete internal team that can be located in an entirely new entity in another region or country.
To learn more about the right outsourcing destination for your growing company, read this article. 
With CodersLink, the sky is truly the limit and we are the link to help you get off the ground. 
CodersLink finds a way
As an outsourcing service provider, we want what is best for your company and we recognize that sometimes the risks of outsourcing services outweigh the rewards and outsourcing may not be the best fit for your needs. We will be the first to tell you this.
If outsourcing does seem like a solution to your problems, we are ready to work with you to source the right person or team for your growing business. 
With outsourcing, you can decrease overall costs, better use your internal resources, speed up your processes, and create faster and better services for your customers or clients. We ensure the best companies find the best talent to continue growing their technology teams, fill skill-gaps and respond to scaling needs. 
And when it comes to measuring the risk of outsourcing, let us mitigate it for you. 
If you'd like to start growing with us, visit here.